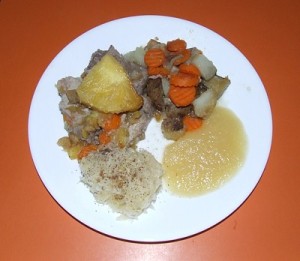 Pork loin roast smothered with a sweet pineapple, apple and Marsala glaze. This recipe is easy to follow, easy to prepare and has an amazing taste.
Ingredients:
3 1/2 lb. pork loin roast
4 baker potatoes, diced
5 carrots, skin on, diced
1 1/2 cups pineapple, diced
1 cup apple (delicious or gala), diced
1/2 cup applesauce (unsweetened)
3/4 cup light brown sugar
3/4 cup Marsala wine (may use 1/2 cup soy sauce as substitute)
Directions:
Slice pork roast down the middle. Start and end about 1 inch from the edges and only cut about 1/2 way down. Enough to create a pocket.
Mix pineapple, apple, 1/2 of the brown sugar and Marsala wine together in a bowl. Place pineapple mixture into the pocket of the roast.
Mix applesauce and other 1/2 of brown sugar together.
Place potatoes and carrots on both sides of the roast (this will prevent the roast from flopping open. Pour applesauce mixture over the potatoes, carrots, and roast.
Preheat oven and bake at 350 degrees F for 30 minutes.
Continue baking at 250 degrees for an additional 60-90 minutes.
Pictured with sauerkraut and unsweetened applesauce
Servings:
5
Time:
20 Minutes Preparation Time
120 Minutes Cooking Time
Source: This is an original recipe
By Dawn Evans from Painesville, OH
To create the delicious crackling on a pork roast, start with one with the rind still on. The instructions and photos needed to make this tasty roast are found on this page.
Serve with a side of veggies.