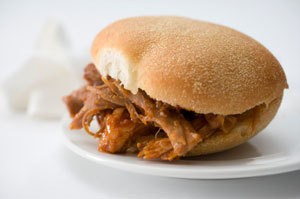 Here are tips for using leftover pork roast from ThriftyFun community.
Pulled Pork Sandwiches
Take your leftovers, toss 'em in the crockpot with a jar of salsa, and shred it up for pulled pork sandwiches. Cook on Low for 8 hours, or High for four.
You can also use a homemade BBQ sauce instead of the salsa; 1 cup ketchup, 1/4 cup sweet mustard, and 1/8 cup of honey or brown sugar.
By Althea
Add To Ramen
Leftover pork roast is very good added to the oriental flavored Top Ramen. A sprinkling of raw green onions in each bowl makes it even better. Some leftover green vegetables, like broccoli or green beans, are also nice in it along with the pork.
By Anna
Fajitas
I chop it up and season it a bit more with cumin, cayenne, taco like seasonings, and use it for fajitas. Also, if you have a meat grinder or even a food processor, grind it well, add some mayonnaise and maybe some relish for a yummy sandwich spread. Also, good, chopped up in scrambled eggs.
Pork Stew
It is really good made into a stew, much better than beef stew. Potato, carrots, green beens, onion, celery.
Tacos
Makes great tacos. Chop of shred, mix with a little taco seasoning, put in taco shells or soft tortillas with lettuce, cheese, salsa, and sour cream and guacamole if desired.
By Linda
Breakfast Hash
Take the pork and cube it up along with a few medium sized potatoes. Toss them in a pan with some cracked black pepper, course salt, minced garlic, onions and green peppers (if desired). Cook until potatoes are done and onions are caramelized. Serve as is or topped with fried eggs for a breakfast hash.
Golden Rice and Pork
2 Tbsp oil
1 cup raw rice
2 1/2 cups onion, sliced
1/2 tsp. salt
2 chicken boullion cubes( chicken soup base)
2 1/2 cup boiling water
2 tsp. soy sauce
2 stalks celery, sliced
1 shredded green pepper (I omit)
2 cups lean cooked pork, cut in strips
Heat oil in large fry pan. Add rice, onions and salt. Cook over med. heat until golden, stirring constantly. Remove from heat for 5 min. Dissolve cubes in boiling water. Pour over rice mixture. Cover and cook about 30 min. until rice is tender. Stir in celery, gr. pepper and pork. Cover and cook another 5 min. Stir in soy sauce and serve.
By Ann
Sweet & Sour Pork
Buy a quart of sweet and sour sauce, add onions, bell peppers and carrots and any other veggies you want. Serve over rice or ramen noodles. If you can't get the Chinese ones, use linguine. Other veggies, bean sprouts or sugar peas can be added. Have fun!
By Janet
Pork Barbecue Sandwiches
Use leftover pork tenderloin for what we call a 'Pork Barbecue'. Pull pieces of cooked pork into 'strings' (Keeping length about 2 to 2 1/2 inches). Pile into a casserole dish with a tablespoon of water in the bottom. Pour your favourite barbecue sauce over top, mixing pork around to coat nicely. Heat in oven at 250 degrees F till warmed and steam comes off when the top removed. Serve on buns with regular assortment of condiments you would use for a hamburger. Yummy!
By Wemarch
Make Egg Foo Yung
It's great with canned tomatoes, chop pork, can add onion and green peppers. Serve on rice. Also, super in Chinese egg foo yung. 6 lg eggs, 1/8 tsp. salt, can of bean sprouts, 1 cup chopped cooked pork, 1/8 tsp.. pepper, 1/2 cup chopped onions. Beat eggs, add rest. Fry in omelet pan, 1/2 cup per omelet. Serve with brown gravy (add soy sauce to pork gravy) and rice.
By Barbara
Quesadillas
Yummy chili cheese pork quesadillas: Brush both sides of a 2 flour tortilla with olive oil. Sprinkle tortilla's with salt, chili powder. Put shredded cheese, and bite-size pieces of your leftover pork roast in between the tortillas. Cook it on the grill or under the broiler until it starts to brown. I do this all the time with smoked chicken or pork.
By Nathan
Take A Break Stew
Heat up the crock pot, toss in your leftover pork, a can of potatoes, one can of carrots, and whatever frozen veggies you want. Leave it for an hour or 2. While it cooks: TAKE A BREAK! After dinner you only have a few bowls and your crock pot to clean, since everything comes from a can or bag. This works with beef too, even chicken.
By Melissa
Pork Bisquick Casserole
Chop up your leftover pork, any pork will do (any meat really). Get out your casserole dish. Dump in two cans of diced tomatoes (don't drain), two cans of fancy cut green beans (drain about half the juice), two cans of corn (drain about half the juice). Sprinkle cut pork over the top of vegetables, sprinkle some grated cheese over the top. Make a mix of bisquick and water, approximately 2 cups of bisquick and then add water until it is runny and pourable.
Pour bisquick over the top of the casserole. bake at 350 degrees F for about 30-40 minutes, until the bisquick is cooked and the top is turning light brown.
By Karen
Pork and Mushrooms
left over pork, cubed
2-3 Tbsp. olive oil
1-1.5 cups fresh, sliced mushrooms
1/4 cup sweet vermouth
1 tsp. sugar
Heat olive oil. Add mushrooms and sautee lightly. Add vermouth and sugar and cook until mushrooms are a nice golden brown. add pork. Stir until pork is heated through. Can be served over white or yellow rice. (03/29/2008)
By Allanna
Stew
My stew: I cut the pork into cubes, add a jar of salsa and 1 cup of water, chopped carrot and one chopped and lightly fried onion. Slow cook for 4-6 hours and serve with hassle back potatoes or cous cous.
Also you can cook in an oven pot and top with sliced potatoes. Slow cook. Just before serving add cheese on top so it melts and slightly browns.
This is my tasty pork cobbler!
By Sharlene
Do you have any ideas? Feel free to post them below!
Read More

Comments