No one at my home likes dark meat or leftovers for that matter. I learned to get around that by taking leftover dark meat, or any leftover vegetables from a roast, and throwing them in the food processor. This is a great way to "fool" the family, and add flavor at the same time. I often add grated carrot, chicken or beef stock, and this to brown rice, for example. It really is good, and so cheap.
By carla from Huntington, WV
January 31, 2000
0

found this helpful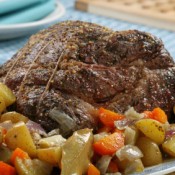 I buy roast on sale and then cook it New England style, for one meal. The next day I make soup, chili or enchiladas for the next day or freezer. It gives us lunches and dinners for nearly a week that way. (Not all in one week however.)
By Nicole
November 7, 2001
0

found this helpful
An idea for a leftover pot roast is one that my grandmother, mother, and now I use: Cut up or shred some of the beef and save it for the next day along with some potatoes and carrots (as little or as much as you like). Grandma calls it "hash".
Read More...
What can I do with leftover pork?
By Robin from Herkimer, NY
Answers
August 13, 2009
0

found this helpful
Dice it for pork stroganoff, make pork sandwiches for sack lunches, make a potato, onion and pork hash in your skillet.
Pork tacos, burritos, enchiladas. Pork chow mein, Pork Yakisoba.
August 14, 2009
0

found this helpful
Quantities will depend on the amount of pork left over and the number of people you want to feed. This is an old family favorite so I don't have a precise recipe.
Chop up the pork into 1" cubes (or smaller if liked) and fry gently with about tablespoon of oil, grated apple (Bramley is good) and finely chopped mushrooms (use fairly bland ones or they'll mask the flavor of the pork). Stir occasionally until cooked through (at least ten minutes to ensure the meat is heated thoroughly). Stir in a "dollop" of coarse-grain mustard ensuring meat is coated with what will be a mustardy sauce (don't overdo it unless you REALLY like mustard). Remove pan from heat and stir in a pot of soured cream. Serve over plain long-grain rice with a green salad.
August 14, 2009
0

found this helpful
Pork fried rice is a favorite of mine. I do this with left over chicken also. Add a little oil to the pan, have some cooked rice handy. Just add the pork and rice to the skillet and "stir fry". Add 1 or 2 scrambled eggs and keep moving the mixture around the pan until the egg is scrambled.
Last, I add a handful of frozen peas and carrots. For my own plate, I add sesame oil which I love. But, it's according to individual taste because not everyone may like it. You can also add soy sauce. I could eat this until it's coming out of my ears.
August 14, 2009
0

found this helpful
I never have pork roast left overs because sooner then I can get to use it it is gone on pork sandwiches. LOL!
Answer

this Question

...