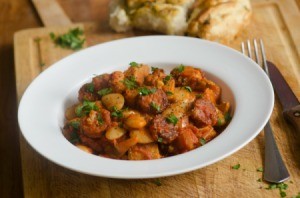 Iowa Pork Stew
Ingredients
1 3/4 lb. pork tenderloin, cut into 1 inch cubes
2 cups fresh green beans, cut diagonally into 1 inch pieces
2 lb. red potatoes
1 1/2 cups Golden Delicious apples, cut into 3/4 inch cubes
1/2 cup sweet red peppers, diced into 1/2 inch squares
10 oz. pearl onions, peeled
1/4 cup flour
1 tsp. salt
1/2 tsp. pepper
3 Tbsp. butter
1/3 cup finely chopped onions
2 Tbsp. butter
1/2 cup water
4 cups clear beef broth
1 1/2 cups sliced, fresh mushrooms
2 Tbsp. snipped, fresh parsley
1 small bay leaf
1 tsp. salt
1/2 tsp. pepper
1/4 cup golden raisins
1/2 tsp. nutmeg
Herb Dumplings
2 cups sifted flour
1 Tbsp. + 1 tsp. baking powder
1/2 tsp. salt
1 Tbsp. finely-snipped, fresh parsley
3/4 tsp. finely-snipped, fresh thyme
3 Tbsp. vegetable shortening
1 cup cold milk
Directions
Simmer green beans 5 minutes; drain and refrigerate. Pare potatoes and boil 15 minutes; drain and cut into 1/2 inch cubes, and refrigerate. Simmer apples 3 minutes; drain and refrigerate. Simmer peppers 4 minutes; drain and refrigerate.
In small mixing bowl, place 1/4 cup flour, 1 tsp. salt and 1/2 tsp. pepper, and stir to combine. Dredge tenderloin cubes in flour mixture.
In a skillet, brown tenderloin cubes in 3 Tbsp. butter over medium high heat. Transfer browned cubes to a heavy-bottomed kettle. Place chopped onions in skillet in which meat cubes were browned. Add 2 Tbsp. butter. Lightly brown onions, and transfer to kettle.
Pour 1/2 cup water into skillet to de-glaze, and add to mixture in kettle. Add beef broth, mushrooms, parsley, bay leaf, 1 tsp. salt and 1/4 tsp. pepper to kettle, and stir together. Simmer mixture 15 minutes. Add pearl onions and raisins, and stir.
Herb Dumplings
Sift and measure flour. Then sift flour, baking powder and salt together into a medium sized bowl. Sprinkle parsley and thyme over flour mixture, and mix lightly with a spoon. Using a pastry blender, cut in shortening until mixture is texture of coarse corn meal, with some pieces the size of small peas. Add milk all at once, mix and fold in with a spoon only until combined.
Drop dumpling batter by the tablespoons full onto top of boiling stew. Cover and reduce heat slightly, but keep stew bubbling; cook 15 minutes. Do not lift cover while dumplings are cooking - not even to peek.
Uncover and remove dumplings. Add nutmeg to stew; stir to combine. Add green beans, potatoes, apples and peppers, and stir carefully to combine. Bring stew to a simmer.
Place 2 Tbsp. flour and 1/4 cup water in a covered container, and shake until blended. Add to stew and stir to thicken slightly. Ladle stew into a tureen and arrange dumplings around edge.
By Robin from Washington, IA