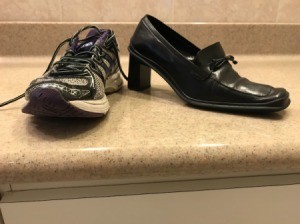 I am planning to retire in the next three to five years. I have been thinking a lot about making sure I am in the best financial situation possible. I realized that it is really my second time planning to live on less income. 35 years ago I left the workforce to raise my family. That was temporary; this is probably going to be permanent. A lot of the things I did then to prepare for less income I am doing now.
First, make sure you can really afford it. I was always a saver. From the time we got married, we lived on one income. Write down every expense for several months. Do not forget gift-giving occasions and an emergency fund. Calculate any additional expenses you think you will encounter. We had to include more groceries, clothing, medical care and other baby essentials 35 years ago. This time around I know we will have to budget for more medical care as we age. I know what will be coming in from pensions, Social Security and any other sources.
If you need to spend money on a large expense, try to do it while you are still working and have that new money coming in.
Numbers tell a story. If those numbers are tight now, things will get worse as inflation creeps up and you are stuck with a fixed income, with no new money coming in. You may not be able to retire, or may have to work part time. In my case, I have the option to substitute teach if I need money, or want to work a few days per week or month.
My work wardrobe will not be needed in retirement. I will be dressing a lot more casually. A couple of years before I became pregnant, I stopped buying new clothing. I am doing the same thing now. Clothing that is worn out is not being replaced. My goal is to have a weeks' worth of outfits and shoes by retirement time. A few outfits will be kept for times I need to dress up more, and the rest will be donated.
How are you going to spend your days if you are not working? It is easy to spend money trying to fill up the day. When I was home with my children, we utilized the library and parks to meet other mothers with children instead of taking them to expensive classes. We had playgroups in our homes on a rotating basis. Meals were eaten at home, clothing exchanges were set up, and hobbies like cooking, sports, arts and crafts, reading and gardening were introduced.
In retirement I plan to pursue the interests I have developed over the years. I plan to get my certification as a master gardener, keep up my exercise routine, and babysit. Free activities I will enjoy include the book club and shows at the library and local parks. I am now eligible to use the pool for $50 for the entire summer. There is a senior citizen center I will try as well.
Where are you going to live? We are not planning to move. Since our mortgage is paid off, ironically it will cost us more to downsize to a condo in the area we live. We have budgeted for having people do work for us that we may not be able to perform as we age.
Even though I am staying put, I am letting possessions that no longer serve me go, by either selling, giving away or donating. My grown children are taking their possessions left here to their own residences. It takes time and energy to clean and maintain items. I also do not want to burden my family with disposing of too many things when I am gone.
I also plan to keep my mind as sharp as possible by doing crossword puzzles, keeping up with the news, and continuing to embrace technology.
There is a saying, "If you fail to plan, you plan to fail." I know that some surprises will come my way, but I am hoping to be well prepared for this next chapter in my life.