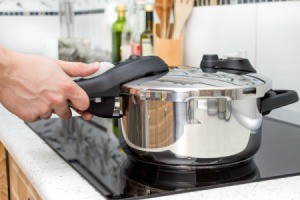 Can anyone give me a recipe for a chocolate, or any type of cake cooked in the pressure cooker? I live in a hot country and I can't afford air conditioning so in the summer, I either have to do without cake or else we swelter in the heat which the oven creates. Also, please, no slow cooker recipes because I don't own one. Any suggestions would be greatly appreciated.
By cettina from Malta, Europe
Answers

April 6, 2010
0

found this helpful
Best Answer
Easy Home Made Cake Type of Meal Bakery ( Simple Cake ) Preparation Time : 20 minutes Cooking time : 40 minutes Ingredients
Plain flour (maida) - 1 and 1/2 cup Powdered sugar - 1 cup Egg - 1 Refined oil or plain butter - 1/2 cup Baking soda - 1 teaspoon Milk - 1 cup Vanilla essence - 1 teaspoon Method Mixture Preparation ( Batter )
1. Beat the egg very well until it becomes lighter and looks like double the original quantity. (As you do while making omlete ) 2. Mix sugar and oil together and stir them pretty hard till the mixture becomes light and fluffy. 3. Add the beaten egg to this mixture. Mix well to blend all ingredients thoroughly. 4. Now prepare a mixture of plain flour (maida) and baking powder and sieve it to avoid any lump. 5. Now gradually add this maida mixture, to the batter prepared by mixing sugar, oil and egg. Note: As you stir the mixture, it will become dense. Add some milk in small amount to make it smooth. Keep on repeating the process of adding maida and then milk as required, till batter is well blended (It should look fluffy/ soft). 6. Add Vanilla essence to the batter and again blend thoroughly.
Cake Preparation
7. Grease the baking tin (or cake tin) with oil and dust it by sprinkling maida over greased surface evenly. Note: Use baking tin of 6 inch in diameter, so that it can easily get into the pressure cooker. 8. Pour the mixture into the greased baking tin. Note: Baking Tin should be made of Aluminium 9. Heat the presure cooker on high heat for 2 minutes.
Caution: If baking tin comes into direct contact of the base of cooker, it can harm ( overbake ) the cake. Remedy: Use cooker container which has big holes in it. You can put the baking tin on that container and then put it inside the presure coker. Even if you do not have the cooker container cake can be made, but there is a big chance of getting its lower part overbaked
10. Now put the cake tin containing the cake batter, inside on cooker dish.( Do not put water inside the pressure cooker) 11. Close the cooker lid and do not put the whistle on the lid.Lower the flame from high to low after 2 minutes. 12. Let it cook for 40 minutes, then switch off the heat. Do not open the lid immediately. Cooked Cake Testing
13. After 10 minutes open the lid to check whether the cake is done. Put a skewer inside the cake. (Skewer - a long thin pointed piece of metal or wood, used to test whether something is completely cooked ) 14. If the mixture will not stick on it, means that cake is done. 15. Serve. good luck.

April 7, 2010
0

found this helpful
Best Answer
I found this at:
www.recipezaar.com/.../Pressure-Cooker-Or-Steamed-Chocolate...
Pressure Cooker (or Steamed) Chocolate Cake
Ingredients
* 1 1/2 cups all-purpose flour
* 3-4 tablespoons cocoa powder
* 3/4 teaspoon baking powder
* 1 pinch salt (if using unsalted butter)
* 2 eggs
* 3/4 cup sugar
* 50 g butter, melted
* 2 tablespoons strawberry preserves
* 1/2-1 cup milk
Directions
.
1
Sift together flour, cocoa, baking powder, salt.
.
2
Beat eggs and sugar till sugar dissolves.
3
Add melted butter and prserves; mix well.
4
Fold in flour mixture.
5
Add enough milk to make thick batter; beat until smooth.
6
Pour into greased 8-inch round pan.
7
Steam in pressure cooker (without weight) for 30 minutes.
8
Remove lid, let steam for 5 minutes more. Let cake cool uncovered; remove from pan when cool.

April 23, 2010
0

found this helpful
Best Answer
Pressure Cooker Fruitcake
This cake has been hand over four generations. It takes time, but is very moist and freezes well. My husband made eighteen one pound fruitcakes to give away, and then made a five lb. for our family. People who normally do not eat fruitcake loves this because we do not put much candied fruit, and use home made preserves for the fruit.
1 lb. all purpose flour
1 lb. real butter
1 lb. brown sugar (light if you want light fruitcake or dark for dark fruitcake)
3/4 tsp. cloves (ground)
3/4 tsp. nutmeg
1&1/2 c. milk
1 tsp. baking soda
1 lb. raisins (dark for dark cake, light for light cake)
1 lb chopped nuts ( Nate usually put 2lb. and put less on candied fruit)
5 lb. mixed candied fruit. (If you do not like candied fruit, replace with nuts)
1 pt. fig preserves (juice and figs)
1 pt. pear preserves (juice and pears)
1 pt. blackberry jelly or preserves. (if you use jelly, be sure NO seeds)
9 large eggs.
1. In a large dish pan or large container, mix 2 cups of flour, butter, eggs, spices, milk, sugar and soda together.
2. In another bowl, put the candied fruit, nuts, and add flour left over to be sure it is covered with flour. Be sure the fruit and nuts are covered with flour. Add the preserves mixture with the rest of the flour as you mix preserves in with the fruits and nuts. Be sure it is mixed well.
3. Add the fruit mixture with the first mixture. My husband usually used his hands to mix it well. Be sure the mixture is mixed well.
4. Butter your cake pans with real butter. Line the bottom of you cake pans with wax paper, then butter the insides of the wax paper. Leave 2 to 3 inches of wax paper hanging over the sides of the pans. Now double wax paper to cover the cake pans. Tie string around the lip of the cake pans. Be sure and tie it tight. You do not want moisture to get inside the cake.
5. Fill your Pressure cooker (my husband used a 30 lb canning pressure cooker) with 1 to 2 inches of water. Be sure and separate cakes with a rack. My husband usually put a clean kitchen towel on the bottom, put his cakes in and separated with a rack or any aluminum pans that has holes so steam can come through.
Cover with pressure top, and cook 45 min. at 10 lb. pressure. Let pressure go completely down before removing the top.
6. Take the cakes out, remove the wax paper from the tops of the cake. Bake 10 minutes at 250 degrees.
Remove the cakes, turn upside down to remove the wax paper from bottom of the cakes. WE usually cover in cheese cloth and then foil. The cakes are very moist and will last 3 to 4 months. Cakes can be frozen for months. This recipe makes several cakes.
Last week I helped a friend make the cake, and we got 14 one pound cakes. It according to what size pans you use. My friend used the 1 lb. aluminum pans.
Good luck! Betty T. GA

April 7, 2010
0

found this helpful
If you live where there's so much sun, why couldn't you use a solar cooker? They are easy to put together, cheap to use, won't heat up the kitchen, and there's tons of info on the internet about them. Here's one place:
www.cookwiththesun.com/ I wish I lived where I could use one!
Susan in Omaha

April 7, 2010
0

found this helpful
ck this out may help ya. Laura

April 8, 2010
0

found this helpful
Thanks so much for your suggestions. They were great! The solar oven idea would be even better since the temperature here in Malta in the summer can reach 42 degrees C (107 degrees F) which is pretty hot. And I may as well make use of the heat rather than constantly moaning about it! I wonder if there is a way of making a homemade solar oven? Any ideas, please?

April 24, 2010
0

found this helpful
Thanks Theodora! Your recipe makes a huge amount but I'm sure I can scale it down to fit my own pressure cooker. Looks like a great recipe. Thanks again.
Answer

this Question