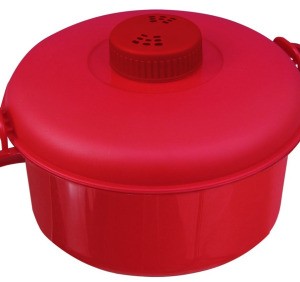 I am looking for instructions for microwave pressure cooker, as ours arrived without any. Thanks.

By rick from Cambridge, England

Answers

July 8, 2011
0

found this helpful
Best Answer
Ok Folks, Here's what I found out by experimentation and observation. I looked all over the place and the best I can figure "There is no such thing as an instruction manual for the goofy cooker, only that flimsy cook book. I took it completely apart and noted how it was designed. It is not, in fact, a, true pressure cooker it just trap a bit of steam at a very low pressure and speed cooking just a bit. It cannot blow up!
So here is how it works:
1) Note there are slotted holes in the black knob, line them up with handles.
2) put in water and ingredients lock lid down with black latches and cook as necessary.
3) Remove from micro and turn black knob 1/4 turn to let off steam and let stand a minute or so.
4) Unlock lid and carefully remove and check or eat food. Voila!
This product is just a doo-dah gadget that helps a bit, maybe!

March 7, 2015
0

found this helpful
Best Answer
Recipes & instruction cards for Tupperware, unsure of your brand:
www.hippressurecooking.com/.../
Their site also has some other microwave manuals listed at:
www.hippressurecooking.com/.../
Search the page for 'microwave' as it's a long list.
I hope one of these resources helps you. Otherwise, you may search for your brand name, product name, and 'manual' - there seem to be manuals available online for lots of things.
Answer

this Question