August 8, 2012
2

found this helpful
Best Answer
During the hot summer months, I would clean the bowl every day and give the dog fresh water. To make it easy, just take a pail of fresh water and a cloth with you when you go out to feed the dog. Keep the dog food dish clean too. I'm sure the dog would notice and appreciate it.

August 7, 2012
0

found this helpful
Try using a different bowl. My vet says no plastic or metal for my dogs. I use an old crock pot insert and I wash it daily.
That green stuff is algae, it does not form in one day. Before you fill it... wash it.

August 7, 2012
0

found this helpful
By the way if it's an old plastic bowl, used for years, it probably contains chemicals that are not good for your dog anyway. So yes, get a new bowl.

(Guest)
Gold Post Medal for All Time! 846 Posts
August 7, 2012
0

found this helpful
Wash it every day whether it has algae in it or not; it's not that big of a deal to do. How would you like drinking out of the same dirty glass every day? Think about it; not only is there saliva from the dog drinking out of it with its tongue (which bacteria will grow from) but it's also outside where dust, bugs, etc are landing in it.

September 21, 2019
0

found this helpful
I couldn't agree more! We have a husky and he salivates a whole lot. We wash his water dish at least once daily but he usually drinks from the fountain.
He and the cats love it. A little waterfall they drink from, constantly circulated thru carbon.They deserve it.

August 7, 2012
1

found this helpful
With no disrespect do you wash your own cooking - eating utensils after every meal? To leave any animals drinking - eating bowls for so long they are in such a deplorable state you are indeed lucky this poor animal has not required Veterinary treatment.

August 7, 2012
2

found this helpful
When the bowl starts to turn green, fill it with water and add about a quarter cup of chlorine bleach. The bleach will kill all the algae. Give the dog another bowl to drink from while this is happening.
Be careful where you dispose of the water. I have found from experience that if you dump it on the ground it will kill all the earthworms in that area!
August 8, 2012
0

found this helpful
Use a different and better type of bowl. Use stainless steel.

August 10, 2012
1

found this helpful
You have to wash your dog's water dish every day to keep it clean. Animals enjoy clean fresh water in a clean water bowl. Don't forget the dog's saliva is being secreted as he drinks water which causes the slippery film in the bowl.

July 4, 2019
0

found this helpful
It's amazing what I found out just from my grandchild playing in my dogs outside water pail. It turns green within a day where I live. But I seen where my either three year old or two year old grand had put a plain old rock in it and the water bucket is barely green. I poured the water out put new water back in and threw the rock back in the plastic bucket.
Once again the water bucket was again not green. Did this again 3 days ago water bucket still is barely green. It's amazing something so simple and didn't cost a dime helped solve the problem of green slime. Picture attached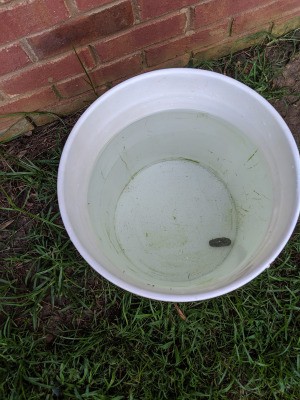 July 16, 2022
0

found this helpful
Weve used these outside for the summer. Our pups caught on quick and really nothing to clean! Never had an issue. This isnt the exact brand we got but I dont see any difference. Totally bypass the bowl this way!
Cool Pup Faucet WaterersUnique and Innovative Outdoor Faucet Attachments That Make It Easy to Offer Dogs Cool, Fresh Water Even When They're Outside Alone a.co/.../cQuqhKX