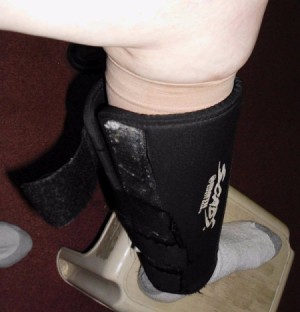 From my two long ago blood clots, I have a perennial threat of developing a leg ulcer, suffering pain, Una-boots in July and huge medical bills for "wound care" visits. As a result, I live in constant fear of bumping my shins on or scraping my lower legs on some hard object and tearing that ripe pear-like skin causing an infection to begin and then an ulcer!
Most patients like me know the basic prevention tools; 1) Good quality moisturizing lotions applied AM and PM, and 2: Wearing compression stockings. However, much to my dismay I found that neither of these things will protect my legs from trauma wounds (skin punctures) caused by being bumped or scraped by a hard object (bleeding through stocking!) such as the sharp metal foot platform of one of those machines at your gym.
My tried and true protection from trauma to my lower legs is simple but was very difficult to discover. Finding it took a vast amount of online time searching. Finally, I found almost (because Kevlar insert only on shin side) the perfect item. Mountain biking shin guards!
If you wear these soft black, wrap around neoprene sleeves on your lower legs (ankle to knee), they will protect your fragile edema weakened skin from most bangs, scrapes, punctures and toenail tears. They are waterproof and sweat proof too.
However these shin guards are not substitutes for compression stockings. When I went a long stretch without wearing my hose beneath the guards, my legs began itching constantly which I scratched more and more until I got sores and ulcers. (9 expensive months in wound care!)
The "magic" product is named "Scabs" by Smith Safety Gear. They are velcro close-able and washable by hand with disinfectant sprays or mild soaps. It may work best if you order at least two pairs so one can be washed while you wear the other.
If products offered are too small for your legs, you might be able to wear two on one leg connected with the velcro straps or mini bungee cords.