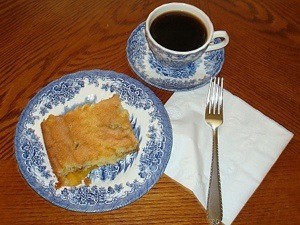 This recipe took first prize in 1990 at the San Bernardino County Fair in Victorville, CA. It is a fairly quick and easy coffee cake to put together and is one of my family's favorites.
Ingredients:
1 1/2 cups flour
1 cup sugar
2 tsp. baking powder
1/8 tsp. salt
1 cup real Butter (do not use margarine)
4 eggs
1 can Cling Peaches(29oz), well drained
Crumb Topping:
1/2 cup butter
1 cup flour
1/4 cup sugar
2 Tbsp. cinnamon
Icing:
(*Optional):
1 cup powdered sugar
1/4 tsp. vanilla extract
3-5 tsp. peach juice (or enough to make icing of drizzling consistency)
Directions:
Preheat oven to 350 degrees F. Grease a 13x9 inch inch baking pan. Put peaches in a strainer and set aside to drain well. Reserve peach juice if you are adding icing.
In a large bowl with mixer at low speed beat all cake ingredients except peaches, until well mixed. Beat for 4 minutes more on high speed. Spread batter evenly in prepared pan.
Arrange peaches on top of batter.
Melt butter for crumb topping in a small saucepan. Remove from heat and quickly stir in cinnamon and sugar to dissolve.
Stir in flour, mashing with a fork until crumbly. Crumble topping over peaches.
Bake 45 - 50 minutes until light golden brown and cake passes the toothpick test. Be sure not to push the toothpick through a peach.
*Note: The batter will rise up and enclose most of the peaches and crumb topping, this is normal. Stir together Icing ingredients and drizzle over warm coffee cake if desired.
This Coffee Cake is rich and pretty sweet just as it is. If you have a real sweet tooth or want to add a more decorative touch you may want to add it. The Coffee Cake is delicious either way.
Servings:
12
Time:
10 Minutes Preparation Time
45 - 50 Minutes Cooking Time
Source: This recipe is my personal creation.
By Sew Crafty from So Cal
Comments

March 25, 2010
0

found this helpful
Absolutely delicious! I added a tiny bit of almond extract to the batter and the icing, it is now a family favorite!

March 26, 2010
0

found this helpful
As a resident of the "Peach" state, Georgia, I am definitely going to try this one! I am always looking for new recipes using peaches.
Since I have some frozen from last summer, I will be giving this recipe a try right away. Thanks so much for sharing this recipe!