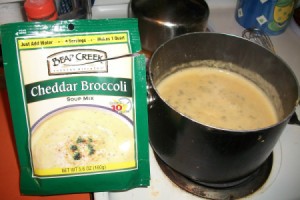 I rarely buy soup mixes. However, when the local Hostess Store closed I found these for .89 and they make 4 cups.
Today was one of those days when I wanted things to be simple, (and I find myself with no food but stuff to put on it)? You know those days, right?
Well, I made this soup, literally as easy as boiling water, and it is amazing. Creamy, tasty and no added salt needed. I put some crackers in mine and one bowl wasn't enough.
My highest recommendation for this wonderful product, which you can find in just about any store.