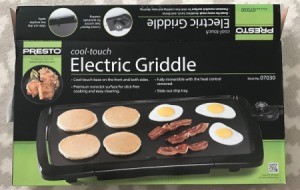 This Presto Jumbo Cool Touch Electric Griddle is so convenient in our household, especially for making breakfast. You can cook full meals on this griddle to if you like, and it is fairly inexpensive.
You can save a lot of money by preparing meals at home. By cooking on a griddle, you have a large non-stick surface where you can cook your food and serve it hot, without having to keep going back and forth with multiple pans on the stove to get everything done. The griddle is very easy to use. No butter or oil is needed to cook on the griddle. It's easy to clean - just a damp napkin will do the job! There is even a built-in slope so if you are cooking something that has grease, it will help drain there.
You can make pancakes, eggs and bacon for your entire family much quicker on a griddle. Typically, we would do two batches of pancakes first and then cook some eggs and bacon. It would take no more than 10 minutes for all whereas, if we were to use our stove, it would be much more messier and take longer.