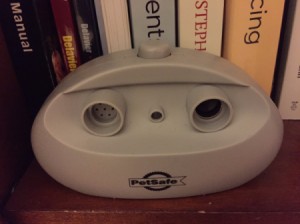 Specifications:
automatic or manual (press a button)
no collar needed
table-top or mount
25 foot range
portable (we take it camping with us)
The PetSafe Indoor Bark Control is activated when its internal microphone picks up the barking sound (or bark-like sounds) or when a button is pressed. When activated the unit emits a 2-second ultrasonic sound that can only be heard by animals (there is red light that comes on when it makes the sound). The sound is unpleasant to most dogs and startles them so they stop barking. They learn to associate its bark with the unpleasant noise.
Our dog, Mason, had developed the unfortunate habit of barking out the front window. At first it was when people walked by, then when the neighbors were out front, then when cars drove by, and eventually he would hear some noise known only to him, go tearing across the house to bark at nothing (sometimes from a dead sleep in the middle of the night). We go camping a lot and he also started alerting when anyone would walk past our site (whether they had a dog or not). Verbally correcting him or tugging a leash (when camping) would stop him temporarily, but soon enough he'd be at it again. He gets plenty of exercise and attention so we checked with the vet to see if anything was wrong and they said he was fine and it was just an irritating bad habit. I remembered that back when we did his dog obedience training the trainer had talked about using an ultrasonic bark controller outside to stop her neighbor's dogs from barking, so I thought I'd see what the pet store had that might help. We found several options. There are shock collars (no thanks), citronella spray collars (messy), ultrasonic collars, and stand alone ultrasonic units (indoor and outdoor models). The gal at the pet store said that dogs do learn that the sound comes from the collar so the stand alone units are a little more effective (although the range is limited). I ended up selecting the PetSafe brand Indoor Bark Control Ultrasonic Correction device as a stand alone unit since it was the least expensive brand.
We've had the unit for about 6 months and have had really good success. Mason still barks occasionally and definitely when someone comes to the door, but overall there has been a dramatic reduction in the amount of barking and how long it lasts. It really helped with camping as well (along with a leash tug and verbal correction). I'm quite happy with it and have suggested it to several friends that have issues with their dogs barking excessively.