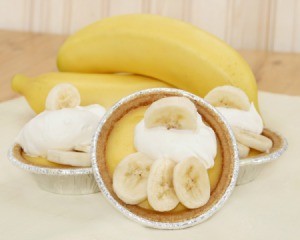 This is a recipe to make homemade pie filling in bulk. If you make a lot of pies during the holidays, then this recipe will come in handy. Plus, it's cheaper to mix this up than buy a bunch of different pudding mixes.
Ingredients:
5 lbs. sugar
1 (1 lb) box cornstarch
1 cup flour
1 Tbsp. salt
Directions:
Mix all ingredients together. Store in a container with a tight fitting lid.
To use for each pie, take out 1 cup of mix, and mix with 4 cups milk. Bring to a full boil on stove on medium heat , stirring constantly until thickened. Pour into pre-baked pie crust and let cool.
If you want different flavors like chocolate, add 3 tablespoons cocoa to the cup of dry mix before adding milk. Use 1 teaspoon vanilla extract for each pie.
For coconut pie: Add 1 cup of coconut to filling after its cooked and either add 1 teaspoon of vanilla or coconut flavoring for each pie.
For lemon pie: Add 1/2 pkg. dry unsweetened lemonade Kool-aid to dry mix. Add milk and if its not sweet enough; add sugar to your taste. After it cooks, add 1 teaspoon of lemon zest.
Servings:
approximately 11 pies
Cooking Time:
10-15 Minutes
Source: My cousin gave me this recipe.
By SHARON from Vian, OK