Pumpkin Dessert Recipes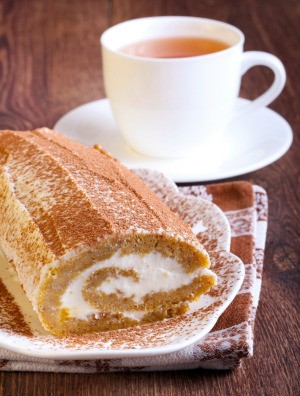 Pumpkin pie is only one of many delicious desserts you can make using this tasty fall relative of squash, gourds, and other cucurbit crops. This page contains
pumpkin dessert recipes
.
Solutions
Share on ThriftyFunThis guide contains the following solutions. Have something to add? Please share your solution!
Ingredients:
2 pkgs. butterscotch pudding, cooked
2 cups pumpkin
1 scant tsp. pumpkin pie spice
1/2 cup brown sugar
2 cups milk
Directions:
Mix the first four ingredients, then add 2 cups milk and cook 10 minutes after it reaches the boiling point, stirring constantly. Pour the cooled filling into the graham cracker crust and chill. Serve garnished with Cool Whip.
By Robin from Washington, IA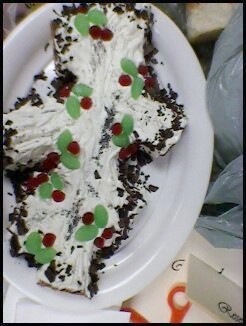 It is a mouth watering, oh I want more, log (ergo the tree)
Ingredients:
3 eggs
2/3 cup pumpkin
1 cup sugar
1 tsp. baking soda
1 1/2 tsp. pumpkin pie spice
3/4 cup flour
Filling Ingredients:
2 Tbsp. margarine
1 (8 oz.) pkg. cream cheese
3 tsp. almond extract
1 1/2 cup powdered sugar
Pudding Frosting:
large pkg. instant pudding mix (vanilla or chocolate)
1 cup low fat milk
1 cup powdered sugar
1 (8 oz.) tub whipped topping
mint leaf gumdrops (for tree)
red berry gumdrops (for tree)
dark chocolate for curls (for tree)
poppy seeds for knots (for tree)
Directions:
Preheat oven 375 degrees F. Line a 10 1/2 x 15 1/2 inch jelly roll pan with foil and grease. Mix eggs, pumpkin, sugar, baking soda, cinnamon, and flour. Bake at 375 degrees F for 15 minutes.
Remove from oven. Sprinkle with powdered sugar. Place towel on top, place another pan on top, and flip over. Some of the powdered sugar will fall from the side, but just sweep it up. Roll it up by the short side and let it sweat for half an hour. The sweating will form the curls
Mix filling ingredients. Unroll cake from towel. Cut in half short side to make two. Spread with filling.
Roll into log and refrigerate. I cover it in plastic and refrigerate it over night. I make 6 logs this way. The next day I either sprinkle powdered sugar on them, frost or freeze.
I mix the instant pudding and low fat milk until it thickens. Fold in the powdered sugar. Fold in the cup of whipped topping. I then put the log in a deep dish and ice it in the dish. I freeze it to give away for Christmas Day.
To serve, set it out on the counter for 10-15 minutes. Then slice. If it is still too frozen, slice on a plate for 10 seconds and enjoy. If this picture turns out you will see a log tree I made for a Christmas Banquet. There remained a small piece left which mysteriously disappeared. Who knows?
Tips:
You can make 3 cakes out of 1 large can pumpkin. The cakes can then be halved. Then they can be individually packaged or layed out to form a tree as in the picture hopefully it prints. I decorate it with poppy seed knots and mint leaves and berry gummy bears and shaves of dark chocolate. It really is yum.
Do not cook it longer than 15 minutes. The longer is cooks the more it dries out and cracks. If your oven runs hot alter accordingly.
To make chocolate shavings, heat chocolate in the microwave for a little bit., and use your carrot peeler carefully and it will curl the chocolate in great curls.
If you want to make holly leaves, sugar your counter and use your rolling pin rolling them thin then just cut them in holly shapes and place on plate
Servings:
10
Time:
3/4-1 Hours Preparation Time
15 Minutes Cooking Time
Great dessert, especially for this season, but I like it any time!
Read More...
This is a very simple recipe that I happened to use with petite pumpkins and apples. However, the fruit can be changed out to be any sliced fruit you want to use. I've also done this with apples, pears, and oranges together.
Ingredients:
4 small pumpkins, peeled, seeded and sliced lengthwise into 16 pieces each
8 granny smith apples, cored and sliced lengthwise into 8 pieces each
1/4 cup sugar
2 tsp. apple pie spice
3 Tbsp. butter, cut into small pieces
Directions:
Preheat oven to 375 degrees F. Toss the apples and pumpkin slices together in a bowl with a little lemon juice so they can stay brilliant in color.
On a lined 9x12 inch cookie sheet, layer the pumpkin slices and the apple slices in an alternating fashion. There should be 2 - 3 long rows of fruit.
Sprinkle the fruit with the sugar and spices. Dot with the butter, then bake for until you can smell the apples baking.
Serve with ice cream or just warm by itself.
Servings:
8
Time:
10-15 Minutes Preparation Time
25-35 Minutes Cooking Time
By Annette from Baltimore, MD
Here's a sweet pumpkin treat that doesn't need a pie shell.

Make a pumpkin smoothie by chilling a 15-ounce can of pumpkin and a 12-ounce can of evaporated milk. Combine the pumpkin and milk with 8 ounces of low-fat vanilla yogurt, 1/4 cup granulated sugar and 1/4 tsp. pumpkin-pie spice. Blend until mixture is smooth. Whip 1 pint of whipping cream until soft peaks form. Divide smoothies into four glasses and top with whipped cream. Sprinkle with additional pumpkin-pie spice before serving.

By Linda from Eustis, FL
In a large bowl, mix pumpkin, sugar, milk, eggs, butter and pumpkin pie spice. Beat until well mixed. Fold in the nuts. Pour into a greased 13 x 9-inch baking pan.
Read More...
Spread pecans in a single layer in a pie plate. Microwave at high 2 minutes, stirring after 1 minute. Chop pecans, and set 1/4 cup chopped pecans aside. Combine 1/4 cup chopped pecans and next 4 ingredients, mixing well.
Read More...
May 25, 2005
0

found this helpful
In a saucepan, combine pudding mix, sugar and spices. Add milk, bring to a boil, stirring constantly. Remove from heat; mix in pumpkin.
Read More...
May 25, 2005
0

found this helpful
In a saucepan, combine pudding mix, sugar and spices. Add milk; bring to a boil, stirring constantly. Remove from heat; add pumpkin and mix well.
Read More...
Related Content