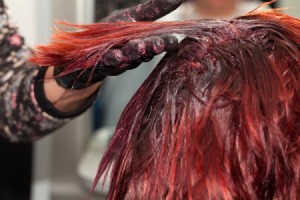 Take a look down any aisle devoted to hair care products. More than likely, you will find a section displaying hair coloring products. You may see a myriad of different brands, colors, and degrees of permanence. What you won't see, is the word 'dye'. Technically, permanent hair color is a dye, but decades ago, the beauty industry decided the word was... well, crude. Since that time, the word 'color' has served as its replacement. The word 'color' applies to all degrees of permanence including permanent color/tint, semi permanent color, and toner (toners are applied to pre bleached hair). The word is also used in reference to temporary rinses, although to a lesser degree.
Some people have become pretty good at coloring their hair at home. But, if you're one of those people who dumps a bottle of 'dye' on their hair, doesn't like the resulting color, and can't wait to dump another bottle of dye on their hair....well, what can I say? You get what you deserve. Fortunately, most oranges and greens can be corrected, but should only be attempted by a licensed professional.
There is so much to know about coloring hair. I could write a book. Indeed, books have been written on the subject. I have a copy of the Clairol hair coloring handbook published in the early sixties, long before L'Oreal and others were clamoring to get into a market that was held almost exclusively by Roux and Clairol.
There are as many different products as there are ways to color your hair. There are temporary/weekly rinses. These may be commercially produced but include homemade rinses, often vegetable in origin. At one time, strong brewed tea was a popular temporary color for grey or light colored hair. It has been written that at one time there was a shortage of flour in England, due to the fact all the upper class were powdering their dingy wool periwigs with lots and lots of flour.
Semi permanent colors became popular in the sixties. Loving Care was the top seller. Designed to 'cover grey' and to be applied every month to six weeks, these semi permanent colors were often referred to as 'progressive dyes', as was henna . However, there was no commercial reference to all the white haired, little old ladies who were now sporting black, black hair with 'cow dung green' ends.
I'll jump ahead and briefly touch on toners and then get back to the main subject. Toners are delicate blond colors. Before applying a toner, and depending on the color choice, the hair must be pre bleached to either the gold, yellow, or pale yellow stage. Example: if you now have black hair and want to be platinum blond, your hair must go through seven stages of pre- bleach lightening, bringing the hair to a pale yellow, before applying a platinum toner.
And now, the product most reached for by the home grown, would be, beautician (not cosmetologist, as they have earned that title and are licensed by a state board cosmetic art examiner).
Permanent colors were formulated originally to permanently cover grey hair. They had no lifting (lightening) action. They produced a dull, single color. It was discovered that by adding lightening action, grey could be covered while at the same time, the pigmented (not yet turned grey) hair could be lightened a few shades. This produced a more natural look, as it left the hair with several intermediate shades, rather than one flat color.
I think this lifting action is the one factor most misunderstood by the do it yourself colorist. If your hair is dark and you color it a lighter shade, the color product will lighten the hair and deposit the lighter color at the same time. This is good for those who want to go only two or three shades lighter than their natural color because these products are very limited in their lightening action.
If you are a medium brown, you cannot color your hair to a light honey blond with these 'one step' color products. A great deal of the natural pigment (any pigment darker than the honey blond you want to be) must first be removed and then the honey blond applied. As stated, these one step colors are limited in their bleaching action. They would probably lighten the medium brown hair only to the red stage. Applying a light honey blond color to red hair will not result in a honey blond shade. This, I think, is where and why so many people write to ThriftyFun seeking advice about what to do for their orange hair.
I think the second most asked question concerning at home 'dye jobs' is 'How soon can I re dye my hair? Usually, 24 hours is enough lapsed time. There are exceptions. These exceptions are made based on the condition of your scalp. There should be no tenderness or sensitivity to any degree prior to re- coloring the hair. If you are re-dyeing your hair to a darker color, the longer you wait, the better. This is because dark colors can go too dark on very recently colored hair. Also, the more time you give your scalp to 'rest', the less staining you will have to the scalp and hairline.
A good rule of thumb would be 'Do not expect these one step color products to color your hair more than two or three shades lighter than your natural color without resulting in unwanted reds or oranges. So, if you are 'dark' and want to go 'light', the only way you can do this without getting reds or oranges, is to first bleach the hair lighter than these reds and oranges. Then apply the desired blond shade. If you are dark and want to be blond, but are not willing to go through the required pre bleaching, then your best choice would be to settle for a slightly lighter shade with added red, ash, gold, honey, or whatever, highlights OR, leave your hair the color it now is.
Three last, but very important notes: If you re-dye your hair to a darker color, choose a shade two or three shades lighter than the desired color. Previously treated hair will be more porous and will 'grab' more color, resulting in a color much darker than that shown on the bottle or box.
If your ends are quite porous, apply the re-color to those ends for only the last 10 minutes of the processing time.
And maybe most important of all: Do a test strand first! This will show you what the entire hair will look like and may save yourself a few tears.