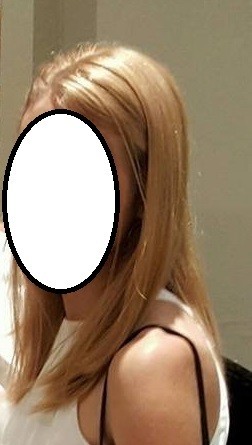 My hair is naturally a dark dirty blonde. I've been dyeing it natural blonde for the past 6 months using Loreal Preference hair color. However, I decided I wanted to try something new and change my hair to brown. I used a hair color remover to strip the overtones in my hair and then I dyed my hair with a medium ash brown hair dye (also Loreal Preference). However, now my hair is a dirty blonde with blue and grey tints to it. It doesn't look terrible, but it's not the color I was going for.
I was wondering if I could apply a semi-permanent dye over this color to get something darker, or if I need to wait and fully re-dye my hair in 4 weeks. My hair has been pretty resilient through all of the coloring I've done and I haven't really noticed much damage. If anything my hair is softer and more manageable after dyeing it.
The photos are what my hair looked like with the blonde dye and what it looks like now. The image where I'm wearing the blue shirt is the current color, but the photo made it look lighter than it actually is.
Is there a better way to get to brown from here?