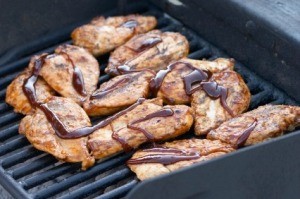 If you want a little less heat, use more sour cream in the sauce. If you want a little more heat, use more pepper sauce. Serve chicken and sauce over rice, your favorite pasta, salad greens or in a sandwich or tortilla wrap. Yummy the next day too if you have any leftover chicken and/or sauce.
Ingredients:
1/4 cup hot pepper sauce
1/2 cup sour cream
1/4 cup ketchup
2 Tbsp. honey
1/8 tsp. paprika
1/8 tsp. cumin
1/8 tsp. cayenne pepper, optional if you're bold enough ;-)
4 skinless, boneless chicken thighs or breast halves, cut into strips
2 Tbsp. vegetable oil
1 tsp. minced garlic, or more to taste
Directions:
Mix together the pepper sauce, sour cream, ketchup, and honey until smooth, mix in the paprika and cumin and set aside half of the sauce, covered and refrigerated. Place chicken in the remaining sauce, cover and marinate in the refrigerator for at least 2 or more hours.
Heat vegetable oil in a large skillet over medium heat. Add garlic and cook until aromatic. Place marinade coated chicken in the skillet and cook until golden brown on each side until cooked through.
Meanwhile, heat reserved marinade in a small saucepan.
Serve chicken over rice, pasta, or salad greens with sauce spooned over the top or in a sandwich or tortilla wrap with sauce spread as a condiment.
By Deeli from Richland, WA
Read More

Comments