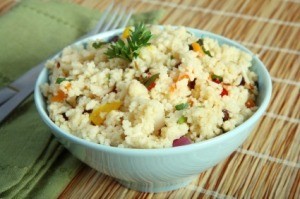 Very nice to eat with pork or chicken.
Ingredients:
1/2 cup uncooked couscous
1/2 cup water
2 medium tomatoes, seeded, chopped (1 cup)
1 medium cucumber, seeded, finely chopped (1 cup)
1/4 cup finely chopped radishes
2 Tbsp. finely chopped green onions
1/4 cup finely chopped fresh parsley
1 Tbsp. chopped fresh mint or 1 tsp. dried mint leaves
1 Tbsp. fresh lime juice
1 1/2 tsp. oil
1/4 tsp. salt
Directions:
Cook couscous in water as directed on package, omitting margarine and salt. Toss with fork; place on cookie sheet in thin layer to cool quickly and prevent lumps.
Meanwhile, in medium bowl, combine tomatoes, cucumber, radishes, onions, parsley and mint; toss gently to mix.
Add cooked couscous to vegetable mixture; toss gently. Drizzle with lime juice and oil; sprinkle with salt. Toss gently.
Source: Healthy eating (Pillsbury)
By Raymonde C. Gauthier from North bay, Ontario, Canada
Read More

Comments
Do you need a quick, easy and healthy side dish? You can prepare couscous. For an even quicker option, I have used this jarred Moroccan couscous that also has vegetables. Optional - top off with fresh cilantro, dried raisins, pumpkin seeds and garbanzo beans. As reference, I made 2 cups which was enough to feed 4 people as a side.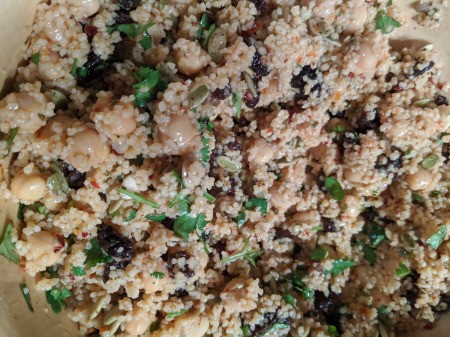 Read More...