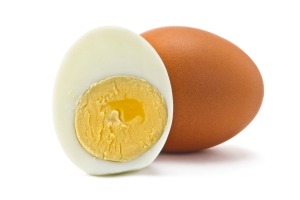 There is a story behind the name of these eggs. They are so easy, even the son-in-law can make them, and so delicious, even the mother-in-law will be impressed. They are very good, and a real nice change of pace from deviled eggs. Serve them with rice for a light, tasty, and nutritious, as well as cheap meal.

If you can't get, or don't want to buy tamarind pulp, you can substitute. Use 1 tsp. molasses, and 1 tsp. lemon or orange juice. Change the amount of chilies to suit your preferences.
Ingredients:
6 hard cooked, peeled eggs
4 Tbsp. oil
1 onion, thinly sliced
2 fresh red chilies, sliced in the round
2 Tbsp. sugar
1 Tbsp. water
2 tsp. tamarind pulp
1 Tbsp. soy sauce
Directions:
Prick the eggs 2 or 3 times with a toothpick, about 1/4 inch deep. Heat the oil in a skillet or wok and fry the eggs until crispy and golden. Drain on paper towels.
Halve the eggs lengthwise and put on a serving dish. Pour off all but one Tbsp. of the oil. Heat the oil and cook the onions and chilies over high heat, stirring constantly, until golden and slightly crisp. Drain on the paper towels.
Heat the sugar, water, tamarind (or substitute) and soy sauce until bubbling rapidly, then reduce the heat and simmer for 5 minutes until thickened. Pour the sauce over the eggs and spoon the onions and chilies over all.
Serve immediately with rice. Alternatively, you can put the eggs over hot rice and pour the sauce and veggies over.
Source: Practical Cooking: Quick and Easy from Paragon Press
By Free2B from North Royalton, OH