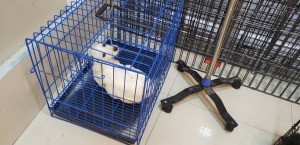 My dog is 3 months and 12 days old. She has not had any of her vaccines. I adopted her about a month ago (February 2019). Just today (Monday, May 13, 2019) she has been confined for Parvo. I've noticed soft poop, but I thought it was just because she had too much to drink. Saturday (May 11, 2019) night she was left outside for a few hours because she kept pooping and urinating in the house. During dinner time she ate very little food. The next day (Sunday, May 12, 2019) she was able to eat breakfast and lunch and drink water and still seemed okay, but I noticed that she wasn't as active or playful. She wanted to lay down most of the day and when she would follow me around she would eventually lay down to rest again. On the evening of Sunday, she refused to eat and drink anything. I already noticed that her stomach showed it had very little food left in it. I tried to force her to eat, but still no luck. Instead I let her rest and hoped she'd eat in the morning.
Around 4:00 am of Monday (May 13, 2019), she vomited for the first time (accompanied with rice), pooped (score 6 on a vet's chart), and peed. I took her outside and cleaned her bed which she had vomited on. Later that day, she kept vomiting, but now it is a watery and foamy one and she still refused to eat or drink. We thought she had just eaten something her stomach didn't like so we tried to let her swallow 3 egg whites. She later vomited this after less than 5 minutes. At this point I was panicking and really worried already. I was told that maybe it's just her teething since it's time to lose the milk teeth and she's lost 2 teeth already. Nonetheless, I still did research on the symptoms and asked advice. While waiting for responses, the next thing I did was to force her to drink lukewarm water with sugar in it. I used a dropper to let her drink this since she wasn't drinking on her own. She'd accept the mix, but would vomit later the same watery and foamy mixture. Her stomach had become so small at this point. I continued the sugar-water therapy so as to help her with her glucose level and hydration a little.
Around 4 pm, I couldn't take seeing her just laying and shivering and weak so we took her to the vet. Upon putting her on the table she pooped blood that had mucus and a really awful smell. This was when the vet concluded she was parvo positive and I was advised to let her be confined for proper care and medication. We went to another vet for a second opinion. Upon reaching the clinic and putting her on the table she pooped blood for the second time around, but now it was more than the last. She weighed 3.7 lbs upon weighing. Around 5 pm today (Monday, May 13, 2019), she was tested again for parvo and it came out positive as diagnosed by the previous vet.
She has been confined in the clinic taking in IV fluids. As per the update of the clinic, she has only vomited once since I left the vet and doesn't seem to show negative reactions towards the IV fluids. Does she have a high or low chance of surviving parvo? When can I take her home? Is it okay for me to continue home medication with prescription even after just 1 day of being confined since confinement is very expensive? How long will she stay lethargic and refuse food or water?