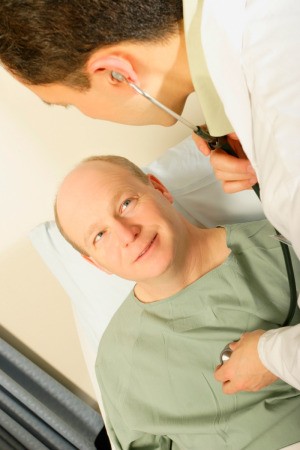 "Help, I can't find enough to do!" That seems to be my motto lately and I don't have the slightest idea why; not until my husband came home from his cardiac rehab last week, that is. Please let me explain for I know it sounds like I have completely lost my mind and for a while I thought I had. For those of you who are regulars of ThriftyFun, you may remember my writing about our rather unusual Christmas spent in the hospital as my two sons and I waited anxiously while my husband fought for his life after complications from open heart surgery.
Well thankfully all turned out well and he is home and in cardiac rehab now. He does have some problems that aren't the normal path of healing, but we are dealing with them one at a time.
When we left the hospital, they gave us a three ring binder with all kinds of information in it, but we found it was lacking big time in one particular area. After we get home, get the oxygen set up for my husband, which is another issue we gained with the surgery, I get out the three ring binder to see what else I should be looking for or doing. It seems that the discharge nurse pretty much covered everything as far as I can tell. That is where I was wrong and they were lacking.
Oh, they covered most of the issues normal heart surgery patients may experience; however they failed to discuss any issues the family might face during the recovery time. While the patient is rightfully the center of attention, the other family members, in our case me, have to take up the slack and do the work of both. Now I am not complaining, he is worth it and I signed on for that when I said I do.
As time went by, I did my normal routine, did his chores, and along the way managed to do a variety of hobbies, a big variety of hobbies; more than normal for two people. I made myself busier and busier - starting one project after another, at times without finishing others. One day I was outside getting some things for yet another project, and on the way back to the house I saw something that spurred yet another idea and my mind was spinning out of control.
I finally realized something was wrong, but I had no idea what. I stepped in the door, looked at my husband, and said, "What is wrong with me, I can't stop finding things to start even before I am finished with other projects?" He calmly looked straight at me and said "I don't know but you sure do have a lot of stuff started all over the place."
The answer came the very next day at his cardiac rehab! The nurse always had a topic she talked about and that particular day she chooses the effects the rehabilitation time has on families! What my husband and I were experiencing was a sort of shared depression. His depression stemmed from not being able to do things and seeing me have to pick up the slack for him and do my work too. He handled it by expecting me to know what and when he wanted something done, as though he were the one doing it. My depression stemmed from seeing him look normal, yet not do anything, then expecting me to do everything. I expressed that depression by being so busy, he didn't know when I did his work and therefore he couldn't ask anything of me. We didn't have words about it, we handled it calmly, but it was still an issue we were constantly facing.
This may all sound strange to you now, but believe me, if you ever go through open heart surgery with someone or know someone who does and experience what we have, you will understand the whole situation much better knowing what to expect. It is my hope this will help you cope with the stress put on the family as the healing time takes its toll on everyone, not only the patient. Being warned ahead of time would have made these past months so much easier for both of us.
By Ann Winberg from Loup City, NE
Editor's Note: Here is Ann's previous essay.
Do you have a frugal story to share with the ThriftyFun community? Submit your essay here: http://www.thriftyfun.com/post_myfrugallife.ldml
Comments
Read More

Comments