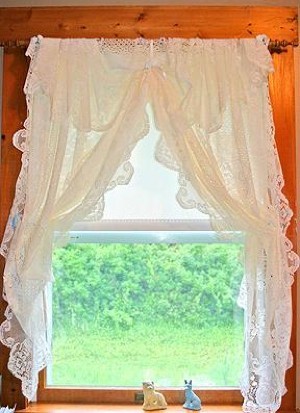 My daughters are both off to college this fall and I wanted to update their window treatments with something less juvenile, but couldn't find anything I could afford with all my college bills! But in the discount store, I found lace table cloths reduced to $3. They were long, 60 by 102 inches so I made Victorian-looking swags out of them.
I bought new ones because I had three windows to do, but I see tons of these at yard sales that would work, especially church sales where they're getting rid of old communion table cloths. It doesn't matter if they have holes or a few stains; you won't see those. Just remember, it has to be pretty long, at least 90 inches to bottom of the average windowsill.
No sewing. Total cost: nine bucks.
Approximate Time: 20 minutes
Supplies:
new or used lace tablecloth (the longer, the better)
ribbon or pearls on a string
trims, such as ribbon roses
Instructions:
First, you may want to measure around the outside of your window to get an idea of the length you need, from the bottom of the sill on one side, around the top and back down to the other sill. Write that measurement down and keep it in mind when you are looking for a lace tablecloth for this project.
Fold the cloth lengthwise and drape over the rod. Hang it up.
Now pull down each side of the cloth to the desired length. You will see a "valance" forming at the top.
Now pull the center of the valance down, and you will see the "swag" forming. Gather the center of the swag in your hand and bunch it up to the rod and secure it with matching or coordinating ribbon and tie in a bow. Or use a string of pearls, rick rack, yarn, etc. Attach ribbon roses, if desired.
You may also want to thread ribbon, as I did, through the curtain on each end of the rod and tie each into a bow to secure it better, depending on how much activity will be going on around the window.
You can stop here, or you can pull back each side of the curtain by threading a ribbon sort of randomly through each side, and securing with hooks or tacks. Threading the ribbon through gives it a more "flowing" look, as opposed to just tying it up. But that's up to your taste.
As I was admiring my own work, I thought it might have been nice to "tea stain" the swags. This would be helpful if your table cloth has several stains.
By Cindy from Waynsburg, PA
Comments
June 21, 2010
0

found this helpful
Top Comment
I needed a valance in my bay window. I couldn't find the fabric I wanted and then I came across an old beige tablecloth that was my mother-in-laws and even though there were a few holes, I managed to make my valances and they are beautiful and leave memories too.
June 16, 2010
0

found this helpful
I love Victorian.You did a great job.The tea dye is a good tip.Thanks for sharing.If your accepting orders,I'll need 1 window please.:-)
June 16, 2010
0

found this helpful
Very pretty and feminine. They're going to love
what you've done. I love tea-dyed things, paper
and fabric. So soft and nice.
Thanks for sharing Cindy.
Pookarina