December 10, 2010
0

found this helpful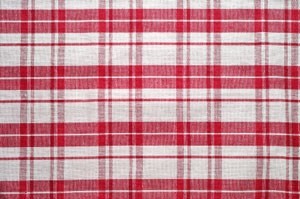 Tips for finding and using old tablecloths as fabric as posted from the ThriftyFun community.

Look At Garage Sales
If you sew, a great way to find cheap fabric is to look at garage sales for tablecloths. Even if they have a stain or two, there will be plenty of good fabric for you to use for other projects. Tablecloths come in a variety of thicknesses, sizes and patterns so you can find fabric for a variety of projects.
Look For Linen
I buy old linen tablecloths. I cut them into four pieces. Then stamp them and embroider. Hemmed, they are a great Christmas gift.

By diane mcgee
Make Aprons
If you find lovely old tablecloths with bad stains or holes, get them anyway. The fabric from "vintage" tablecloths is better than anything you can buy today and you can make a beautiful full or half apron for yourself or to give as gifts.

By Jess

Other Fabric Recycling Techniques
I have a 3 year old granddaughter and have made some of the finest clothes for her from a bag of my old clothes that I was going to donate to the thrift store. I've recycled buttons of course, but also taken expensive lace from my nighties and the like to use in the making of pretty dresses for her as a baby and now as a 3 year old. I may even use the top neckline or keep the button front intact in my old garment to make sewing her garment easier. You can use the bottom portion of an already hemmed dress so you don't need to hem the dress you are making for your child. This makes sewing an outfit for your child just that much faster! I had one long floral gauze dress, and from that one dress, I made 3 different outfits for her! Two dresses and one cute lacy top. Three beautiful outfits all made from just one recycled dress ready for the "junk pile".
Don't throw out your unwanted clothes without using your imagination to rethink these clothes into children's clothes. You only need basic sewing skills & a good imagination. It's so easy to scale down adult dresses for babies & little girls. Simply take your old dresses or tops & lay a top of her size (or a pattern her size) onto the one you're using for fabric this is your "pattern".

For boys, why not recycle your old jeans and sweatshirts to make jeans and sweatshirts for them. Keep the front and back neckline ribbing intact and just cut it down to his size.

With the price of fabric these days, it's well worth the effort and if you make a mistake, well you were going to throw it out anyway, so there's no loss. It's fun to see what you can come up with and some of my granddaughter's favorite outfits came from my old clothes! Waste not - Want Not.
By Cyinda
Make Sure Clothing Doesn't Look Like a Tablecloth
Many years ago one of my college classmates made a project of sewing a new wardrobe over the summer. She received or purchased at a substantial discount a large number of lovely floral tablecloths.

Every time I saw her, she looked like she was wearing a tablecloth. This was not a reflection of her prowess as a seamstress, but her choice of fabric pattern. Long story made short, you don't want to be walking around wearing a tablecloth. Ask a disinterested party what they think of your choices.

By Holly
Tablecloths for Fabric
Thrift stores are a great source for evening and bridal wear. I recently saw in the window of a thrift store a wedding gown, complete with veil and undergarments, for $30.00. It's a great way to get yards of expensive fabrics, laces, beads, sequins, etc... for practically nothing! (09/12/2007)
By joan pecsek
Tablecloths for Fabric
Larger tablecloths can be cut in half and narrowhemmed on the raw edges. Then purchase clip on curtain rings or stitch on rings at regular intervals across the two panels and put on round rod and use as window curtains. A teacloth can be folded on the diagonal and a pocket sewen for a rod across the wide end of the resulting triangle to use as a valance, this looks particularly nice in a kitchen, but no reason why lace tablecloths could not be used in other rooms. (09/13/2007)

By Mary Lou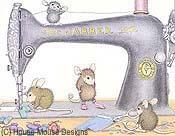 Tablecloths for Fabric
Tablecloths make wonderful place mats and dish towels because they launder easily. They also make good curtains for kitchen and bathroom windows. I think the patterns would be appropriate for those rooms. If anyone still uses an apron, that fabric would be wonderful for that purpose as well.

By Carol in PA
Tablecloths for Fabric
For years I've used discount table cloths for household sewing. Look for end of season markdowns for seasonal table cloths to make quick curtains, table runners, napkins, carry-all bags , my grandson's bedroom curtains, shower curtains or pillows for almost nothing. I've found 80 x 120 or so for less than $5.00. The fabric is excellent and versatile, for so many items. (09/14/2007)

By Gena
Tablecloths for Fabric
Linen tablecloths make fabulous costume fabrics. Everything from Biblical to Renaissance to Pirate gear needs white or off white linen shirts, wimples, aprons, mantles and basic robes. Wash and wear without ironing for a rustic look. They drape beautifully and look authentic - no polyester shine! Be sure to pre-wash in hot water before making a garment or it might shrink after being made into a costume. (04/19/2010)

By nhe