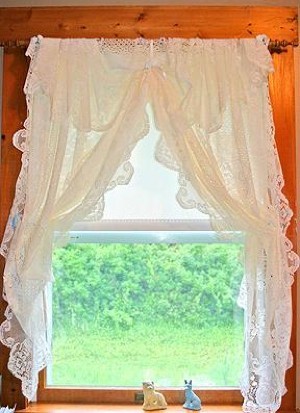 Approximate Time: 1 hour
Supplies:
round tablecloths
scissors
iron on bias tape
Instructions:
I imagine almost everyone has a couple of round tablecloths stashed in a drawer someplace. If you don't have any, they can be found at thrift stores in abundance, and sometimes after a holiday, they can be bought for very little money.
You can make 2 cute valences by cutting a round tablecloth in half, then leaving at least 2 inches for the rod pocket on the cut edge, then using iron on tape to finish your valence, or if you sew, sew a rod pocket.
It's easy to make your own Christmas tree skirt by using a tablecloth also. Fold and find the center, mark, then cut a straight line to your center mark, then iron on bias tape on the raw edges and you can add Velcro or ties to close the skirt in back of your tree.
You can also make a fireplace mantle treatment, by cutting your cloth in half, then finishing the cut edges with iron on bias tape.
If you sew, you can make a cute circle skirt by cutting out the center per your waist size, then cutting down from the small circle cut out at center, which would be about 6-8 inches, or enough to allow you to get the skirt over your head, then add 2 cute ribbon ties, Velcro, snaps, buttons, or sew in a zipper.
Have fun! Use your imagination for recycling those round tablecloths!
By CDC from FL