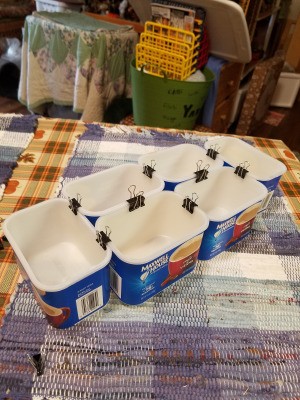 My neighbor gives me these and I use them for so many things! Food, crafts, and office supplies, oh my! Today it occurred to me to make them and share with you all.
All you need are the plastic containers and some small binder clips. I would use the next size up but I was out of them.
Then plan you configuration and you are set. You will find with the smaller clips, the lip of one will overlap the next one more than with the larger ones, but not by much. So, you will need to make sure they all go in the same direction.
I did this with office/crafting supplies. You could put anything in it you wanted. If you just wanted something temporary this is perfect as you can make it small or big and then break it down. N-JOY!