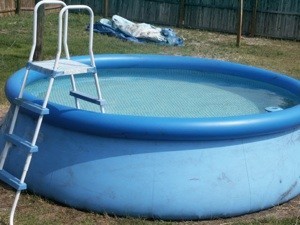 I have an 18x4 Intex pool that has fulfilled its duty as a pool. However, it now has a very, leaky ring that will not hold air. I would love to hear of some ideas for recycling or reusing all of this vinyl.
Ellen from St. Pauls, NC
Answers

October 12, 2008
1

found this helpful
Best Answer
RE: Recycling A Vinyl Pool
I built a very large three tiered fountain. At Home Depot they sell these really pretty decorative blocks, mine are a rose colored. My lining was actually shower pan liner, but you could use a pool liner. I would put a layer of decorative blocks in a large circle. Inside the circle you can add sand to keep the weeds down then a layer of plastic to also keep the bottom of the fountain soft and weed free. Then I added another layer of decorative stones, staggering them. Next you take your liner and lay it out inside your circle, smoothing out the liner as best as you can. At this time you can start to add a little water just to help the plastic liner flow into place. Now add your fountain. I did set the guts to my fountain on a masonery block in the center of the pool, add underwater lighting, working the electrical lines over the decorative stones.
Then add your final layer of decorative blocks, once agin staggering them. Once the fountain is filled you can trim back the plastic and tuck the edges into hiding. People use my fountain as a land mark. Go to the big fountain and turn left. The neighbor hood children love it and have a tendency to gather around it. I don't mind. I've even been know to sit in it on occasion, in this hot Texas weather. I love my fountain just to sit by in the evening. I have planted a lot of tropical plants around my fountain, it's my own oasis. I add a splash of bleach about once a week to keep the water clear and free of mosquitos. You can use shock for a swimming pool if you prefer

August 23, 2016
1

found this helpful
Best Answer
I turned mine into an aquaponic garden and grew almost 400 pounds of fish, vegetables and fruit over a 10 month season. Here is a link to a photo: bit.ly/2beafjW
By Mandy (Guest Post)
October 12, 2008
0

found this helpful
You could donate it to a school who could then use the vinyl in art projects. Or perhaps you could cut it up and keep a few of the pieces as patches for leaky blow up toys that are nearing the end of their life cycles.
You could use it for a tarp to cover your riding lawn mower or tractor. Or you could use it when raking leaves; just rake leaves onto the liner, and pull to where ever you need to. Or, this is not really a green tip because it would not break down eventually, but I am constantly on the look out for things that I can use underneath mulch, to keep the weeds from growing.
This sounds like a dandy thing to use it for. Hhm, I'll have to think about this one some more.
Read More

Answers