Is there a way to refill the swifter wet jet bottle?
By Pam from Bland, MO
Answers
November 18, 2009
0

found this helpful
Best Answer
I have had success refilling the bottle by using the turkey injector.
January 19, 2011
0

found this helpful
Best Answer
I was wondering about refilling the swiffer bottle today and don't have time to do the injector all of the time. I learned about the boiling water trick and tried it out. I filled a coffee cup full of hot water (my water is very hot but you are supposed to microwave it for a minute or two) and stuck the end of the bottle with cap in the water, let it sit for about 15 secs and then with a towel it twisted right off.
:) Woohoo.
Answer

this Question

...
My Swiffer jet mop was always running out of the expensive refills. I tried to refill the bottle by drilling a hole in the end of the bottle and refilling it with my own cleaner. The mop leaked and stop running. I had to purchase another Swiffer. This time when I ran out of the Swiffer cleaner I filled a large spray bottle with my favorite cleaner and sprayed as I mopped.
Trisha from AL

Answers:
Refilling the Swiffer Bottle
Actually the lid does come off. Very hard to get off, but I use my rubber can opener thingy and it does come off. I have never bought new and I do it for the places that I clean for, too. It doesn't leak after you do it either. (08/24/2007)

By Barb
Refilling the Swiffer Bottle
My husband drilled a hole in the bottom of the Swiffer bottle and glued in a hose connector with a cap. The hose connector with cap is very inexpensive at any hardware store. It works great and is very easy to refill. I also made my own Swiffer cleaning pads by using a microfiber cloth, putting a diaper on one half and then folding the microfiber cloth over the diaper. I stitched it in place and add Velcro strips. It absorbs beautifully and is washable. (08/24/2007)
By Patti from CA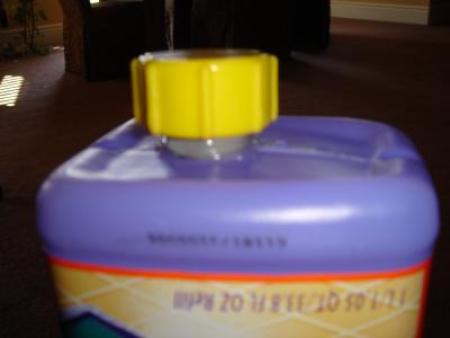 Refilling the Swiffer Bottle
I take a very slender knife and make an x in the rubber part of the bottle. I insert a small funnel and fill with my cleaner. It works perfectly and does not leak. (08/25/2007)

By
Refilling the Swiffer Bottle
The lid will come off with a little persuasion. I used a crescent wrench to pry it off and I refilled it quite a few times before I had to purchase a new one. The seal became worn out on the old one. Good luck. (08/26/2007)

By GK
Refilling the Swiffer Bottle
I don't refill with the Swiffer product. I use 1 part ammonia to 3 parts water. Very inexpensive and you can use a water bottle to mix it up. Also, I use old washcloths in place of the Swiffer pads. Just lay it flat, bring up the edges around the Swiffer bottom and tuck them into the holes. Toss them in the wash when you finished. Saves money, and they work a lot better.
(07/07/2008)

By sdickston
Refilling the Swiffer Bottle
I just cut off the ring around the neck with a sharp knife and found that lo and behold there is a regular screw cap under there. Now all I have to do is unscrew the cap. I don't like the liquid cleaner, because it makes streaks on my laminate floor. All I really need is water, vinegar, a little biodegradable dishsoap, and some lemon juice. That is my earth friendly floor solution. Perfect. (11/13/2008)

By Brenna
Refilling the Swiffer Bottle
Oh almost forgot. I bought two reusable pads from Method and I use them with my wet jet sprayer. (11/13/2008)

By Brenna
I have a solution for refilling the Swiffer Wet Jet soap solution. As the lid is sealed on, I used a large turkey basting syringe used to inject flavoring into turkeys. Fill it with 2 "shots" of my favorite floor soap in the existing hole, then I filled the rest with water. I have refilled it 4 times with the original bottle. Hope this helps!
By Kelly

Feedback:
Refilling the Swiffer Bottle
After reading your note, let me add some things. Drill a 5/16 hole on the bottom side of the bottle and fill using a large catheter syringe. They Are used in the OR to add fluid to the bladder. I would think you can get them at a drugstore or on the net. THEN seal the hole with air-conditioning window tape. It is a putty like material that adheres nicely and is waterproof. THEN use infant diapers as pads and trim to fit. WORKS GREAT. Without these additions I would definitely use the clorox mop as the cost on the swiffer is outrageous. (08/23/2005)

By Michael Fajoni