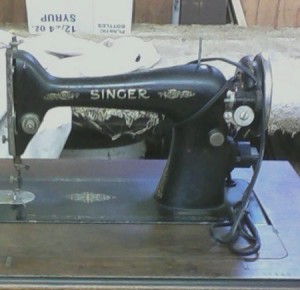 What can be put on the black Singer machine head to bring back some color that was lost over the years?
By Terry S from MI
Answers
May 25, 2011
1

found this helpful
Whatever you do to it, will diminish it's value to antique dealers because they don't like antiques whose appearance has been improved. When an item is wood, and might have water stains, part of the stain and varnish is gone, they want it left that way, instead of a person stripping the old beat up finish off and redoing it.
May 25, 2011
0

found this helpful
Yes, that's right, if you paint it then you will remove a good bit of the value. However, if you just want to keep and use for yourself, any body shop may paint something like that.
It's not commonly known, but they can and do paint refrigerators, grills, etc. It probably won't be cheap though.
May 25, 2011
0

found this helpful
I have one just like that-a 1933 looks to be in perfect condition that my husband found in a second shop. Once it's back from the shop and the Singer repairman has had a chance to inspect and fix anything needing fixed, I plan to use it for regular sewing.
Use Murphy's Oil Soap or a similar product to bring back the sheen. Avoid the decal area as that may flake off if you are too vigorous, and you don't want to lose that lovely detail.
The serial number should be easy to on that machine, yours looks to be in very good shape. With the number, you'll be able to locate information as to where and when it was made, and you should be able to find the user instruction manual too.
May 25, 2011
0

found this helpful
If you have a Singer, don't worry too much about reducing its value, millions were made and before 1965 or so they were made very well indeed and are still out there stitching. I belong to a group called TreadleOn and our purpose is to encourage the refurbishment and use of these old machines. I regularly use my Singer 15-30 hand-crank for piecing quilt-tops as it sews a beautiful and accurate seam. I have a Singer 27 (circa 1900) in a treadle base which I use for free-motion-quilting.
These machines don't look beautiful but the time I spent cleaning and fixing them up was very well spent! For some directions on how to fix up your machine, try this url: <
www.treadleon.net/.../index.html&gt
; Other brand machines, you'd need to do some research on whether they'd be worth more to you as a "decorative antique" or as a beautiful work-horse machine.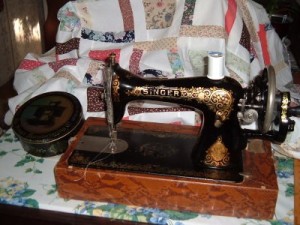 May 25, 2011
0

found this helpful
I agree with what everyone else is saying. It would ruin the integrity of your machine if you do anything to it. My mom learned how to sew on a machine just like this, she sewed me a 6 gore skirt with matching vest for her first project.
Please leave your machine just like it is, it's beautiful!
May 25, 2011
0

found this helpful
A little bit of olive oil on a soft cloth worked wonders on my 1885 handcrank New National sewing machine
Read More Answers
My husband and I have been refurbishing my great grandmother's Singer sewing machine. We used soap and water to clean the machine itself and the gold lettering came off. Does any one have ideas where to get stencils to redo them? If any one could give us some ideas it would be great. Thank you.
Answers
August 2, 2011
0

found this helpful
For info on making your own decals, google this: "printing decals with computer". You should be able to find a picture of your machine easily by using google images - type in the name and model number.
August 2, 2011
0

found this helpful
Have you tried calling around to local sewing machine repair company's and antique stores for advice? Since it's an antique machine it might diminish it's value by putting decals on it so I would double check first to be sure.
Read More Answers
I have an old sewing machine that needs to have the wood cleaned, it is dark from years of use. I am looking for a natural way to clean the wood without removing the original finish.
By floatnstone from Muskegon, MI
Answers
November 10, 2010
0

found this helpful
Try some Old English Furniture Polish, here is their website. Also money saving coupons through the website.
November 11, 2010
0

found this helpful
Here's one from an old post:Removes grease and dirt without harming the wood.
Ingredients:
* 2 tablespoons olive oil
* 4 tablespoons white vinegar
* 1 quart warm water
* 2 quart container with lid
* 2 soft cloths
Directions:
Put all of the ingredients in the container and shake it until the contents are mixed. Then use dampen a soft cloth with some of the mixture and wipe down the cabinets. Dry them with a clean cloth.
November 12, 2010
0

found this helpful
Lemon juice, olive oil, and lemon essential oil if you have it, mix with warm water. 1/8 c lemon juice, 2 T olive oil, and 1 drop essential oil in mixing bowel with 3-4 cups of warm water.
My son and i cleaned kitchen cabinets and our china cabinet this way and they look clean and beautiful. Everything comes off really easy too, without damaging wood.
November 12, 2010
0

found this helpful
Try linseed oil. It works wonders to clean and nourish wood.
Answer

this Question

...