Monica
Silver Post Medal for All Time! 297 Posts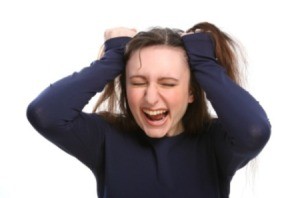 For hair detangler, fill a spray bottle with one third hair conditioner and two thirds water. Spray on hair and comb out. This not only detangles your hair, but also stretches your hair conditioner.
Source: The Dollar Stretcher
By duckie-do from Cortez, CO
Read More

Comments
I remember seeing a recipe for a leave in conditioner for your hair in a magazine many years ago, however I don't recall what it was. Does anyone know of a recipe for leave in conditioner? I think it had fabric softener in it, but I'm not 100% positive.
AC from Minnesota
Answers

January 22, 2006
0

found this helpful
You can use any conditioner in a spray bottle and leave it in your hair. Just use a couple of teaspoons of conditioner and then fill spray bottle with water.
By 1southerngal (Guest Post)
January 23, 2006
0

found this helpful
I use 1 part regular conditioner to 5 parts water in spray bottle ( you can wash out pump hairspray bottle and use it). Brand isn't important - I use the Suave.
By siris (Guest Post)
January 23, 2006
0

found this helpful
"Mane & Tail" make a leave-in conditioner for horses. Works wonderfully on human hair and smells great. Try your feed store or pet supply place.
By (Guest Post)
January 25, 2006
0

found this helpful
I just leave ordinary conditioner in my hair which works as well as any commercially marketed product that proclaims it's a "leave-in conditioner". Also I read on one of the handy hint sites (maybe this one) that one can use hand lotion on dry hair in the same way that "Pantene" is used.

Holly
Silver Post Medal for All Time! 364 Posts
January 26, 2006
0

found this helpful
I use Infusium by Clairol. It's a spray that comes in different preps depending on the type of hair. A little bit goes a long way.
By pam (Guest Post)
March 3, 2006
0

found this helpful
They have great new leave-in anti-frizz conditioners (Dove makes one) - I got mine in an end lot close out at the dollar store & stocked up.
The new generation of hair products are really great - try them out - get samples over the internet, etc. I pick up the little packets whenever I can and use them for travel, etc.
Oh, leave in hair gel may do the trick,too
By c b (Guest Post)
April 7, 2006
0

found this helpful
Make your own "No More Tangles" leave in conditioning spray: use a small spray bottle (old hair spray bottle is fine), and for normal hair use 1 part regular hair conditioner to 3 parts water, shake well and it is ready to use. For dry hair use 1 part regular hair conditioner to 2 parts water, shake well and it is ready to use.
Note: The small amount of conditioner that is left in the bottom of the bottle (turn bottle upside down to get it out) is usually perfect for this.
I use this (dry hair formula) on my hair and my 2 daughters' hair every day.

April 7, 2006
0

found this helpful
I buy Aussie "Hair Insurance" a leave-in conditioner. It's cheap at a discount store like Walmart, less than $3.00 US. Another even cheaper cream-rinse-type conditioner that takes out stubborn tangles is Alberto VO5 "Hydrators w/extra moisure" conditioner.
I'm sure that would work as a homemade leave-in by diluting it with water.
By michelle (Guest Post)
May 21, 2006
0

found this helpful
Use 2 ounces of fabric softener to 22 ounces of water this will detangle and leave your hair silky soft
By Amanda (Guest Post)
December 26, 2006
1

found this helpful
mix one egg with 4 oz of olive oil and a drop of your favorite conditioner mix it up thoroughly an use as much as necessary the save the rest in a closed container in your refrigerator
By guestpost (Guest Post)
January 16, 2007
0

found this helpful
I need a homemade recipe recipe for science fair for my horse what recipes should I use??
By mamaof5 (Guest Post)
May 7, 2008
0

found this helpful
Thank you SO much for the conditioner recipes. My dd3 has been bedridden for 3 days. It is too painful to get her up to wash her hair and laying so much was making her hair a dry tangled mess!
The leave in conditioner recipe did the trick, for no money at all. Thank you from a grateful Mama.
By RagingHippie (Guest Post)
December 30, 2008
0

found this helpful
I mixed 1/2 oz jojoba oil, 1/2 oz sweet almond oil, 1/4 oz vegetable glycerin, 10 drops rosemary oil. In spray bottle combine ingredients, add water to fill, shake well and spray on wet hair. Leaves it silky, shiny, and gets rid of frizz.
Read More

Answers

My husband and I are in our 60s. He loves my hair, and has requested that I grow it long for him. So I thought I should at least give it a try. For some strange reason, I didn't remember that it can get matted if it is not brushed out often. I have tried detangler sprays. I even found a special brush for tangles at a local store. It is really a mess. I spent about 3 hours on it yesterday. My arms hurt, and my scalp hurts. Any ideas? Help.
By Lois
Read More

Answers

Please need help. I have a 5year old mixed race daughter (she has more of African hair). Her hair is stressing me out and don't know what to do. I am thinking of using texturiser, but really don't want to because of the chemicals.
I have tried almost all hair products to soften hair, but she keeps crying. I bought a hot comb to try stretch it out, but she still cried.
I am currently using Tresemme Mositure plus both shampoo and conditioner as I use them for my own natural hair as well, but don't think it is helping her. I am still using Dark and Lovely detangled spray, but she is still crying.
Please need help because my only option now is to cut her hair really short or use a kid's hair softener (Just for Me, Beautiful Beginnings).
Thanks.
By Emma B
Read More

Answers
I had washed my hair and it got really tangled and knotted up. I've tried conditioner, mayo, olive oil, washing it again with conditioner in it, detangler shampoo, and Vaseline and none of it helped. Does anyone know what I an use for my hair?
By Lea
Answers

December 6, 2012
0

found this helpful
DHC, a mail order costemtic company, has a product that may work. I can't remember the name of the product, but I think you can find it easily on their web site. It is a conditioner put on after shampooing and left on. I have baby fine hair below my waist and the tangles slip right out.
Something else I have found that helps is the old fashion brushing 100 stokes every evening. For my hair, it takes one pump, about 1/8 a teaspoon. Hope this helps.

December 7, 2012
0

found this helpful
Have you tried wearing a shower cap with the lubricant of choice (mine is olive oil, does SUCH lovely things for hair!) thickly applied?
I apply a huge amount of olive oil then stuff all my hair under a thick plastic shower cap which I wear for up to an hour-sometimes two if I'm distracted by something, lol.
Then, while the oil is still in my hair, I gently comb through it with a wide tooth comb, then a finer toothed comb. Sometimes if it's been especially 'knotty', I'll put the hair back under the shower cap after the de-tangle (without washing out the oil) for another hour or two.
I do this once a month, it works a real treat. Good luck, I hope you find a solution that works for you!

December 7, 2012
0

found this helpful
I find that if I brush my hair out properly before washing there are hardly any tangles after.

December 7, 2012
0

found this helpful
Believe it or not a light trim goes a long way. I used to have hair down below my waist and noticed every time it started tangling really bad. A trim removing the split ends worked wonders.

December 11, 2012
0

found this helpful
Have you tried any of Sally Beauty Supply's Beyond The Zone brand. I love these products as I have naturally dark hair that I have bleached to a light blonde. I really love Beyond's Protein Cocktail spray, it is great & my stylist even noticed my hair was much softer & the straw like texture was gone! I hope this helps!
Read More

Answers