October 19, 2010
2

found this helpful
Best Answer
My answer to everything: Oranges! Always keep some on hand for just such disasters as burning food in the kitchen. Cut an orange into fourths, and heat it in the microwave just until it's hot enough to give the oven an orangey smell, do not burn it, or you'll have two problems.
Cut two or three more oranges up, and lay them on plates elsewhere in the kitchen. The citrus odor will eventually overpower the burnt odor, and your sanity will be restored. :)

January 1, 2017
0

found this helpful
I'll let you know how long do I leave the oranges out .Thanks I'm keeping my fingers crossed

Louise B.
Silver Feedback Medal for All Time! 337 Feedbacks
October 21, 2010
0

found this helpful
Best Answer
I think it eventually goes away on its own. The kids at school used to burn popcorn on a fairly regular basis -- and the microwaves didn't smell for too long.

November 29, 2010
1

found this helpful
Best Answer
Are you certain that the microwave is safe to use after an internal fire? If so, here's a suggestion.
Leave a large (microwave safe) mixing bowl, with a couple of cups of white vinegar in the microwave overnight. (Door closed.) The next day, add some water and heat til the liquid boils. (Watch closely, you don't want to boil dry and start another fire.) Don't open the door and let it steep for 10 to 20 minutes. Once the liquid has cooled to warm, use a clean rag, dipping it into the water/vinegar mix and wringing it out, to wipe down the interior.
You may have to repeat the boil and cool routine.
If it smells better, but you notice the smokey smell returning after regular use, it's probable that there is more damage than you thought and the oven is damaged to the point of being a fire hazard. If this happens, unplug the microwave and discontinue use until it is professionally repaired or just replace it. It's not worth the electrical fire risk to keep using it as is.

February 8, 2011
0

found this helpful
I have heard that leaving charcoal in the microwave, fridge etc., takes the odor out. Good luck.

February 8, 2011
0

found this helpful
Gee Haily I bet you were really scared! That could have burned your house down. I hope you learned a lesson about paying attention to what you are doing from now on. Using vinegar for now, get lemon juice next and try to get rid of smell.
Hope you have a lot of money saved up! This gramma had the very same thing happen last night. What a coincidence!

Lilac
Silver Feedback Medal for All Time! 450 Feedbacks
February 9, 2011
0

found this helpful
Accidents happen to anyone. If you have washed the inside good then the smell is in the vents. You will have to get that out Put a little vinegar water in a cup and heat for one minute then let it sit in there overnight. If that doesn't work but sone cinnamon water in a cup and try that. Eventually it will go away.

February 9, 2011
0

found this helpful
Haily, I want you to do me a favor. Please never think or refer to yourself as stupid again, okay? Your request to TF for advice is actually one of the most well-written I've seen here and you're only 15! The advice about vinegar and/or lemon juice from others is good and it sounds as though you've learned your lesson about taking time to really be sure of what you're doing before using any kind of machine or appliance.
Stay safe and keep in touch with TF. There's lots of good advice here about lots of things. :-)

Paula Jo C.
Bronze Feedback Medal for All Time! 119 Feedbacks
February 9, 2011
0

found this helpful
Heating vinegar as told already will work but so will charcoal you use for your grill outside. Good luck to you - my 78 year old mother-in-law did the same thing a few mornings ago with a sausage biscuit, so accident can happen to anyone.

February 9, 2011
0

found this helpful
I agree with the vinegar. I sprayed just a bit of apple cider vinegar on the walls of the microwave and left it closed all night. The smell was gone in the morning. Hope the smell goes away for you!

April 3, 2011
0

found this helpful
Haily: Guess what? I'm 55 years old and just did the exact same thing yesterday! Which is why I am on this site! I Googled this same question and found my way to ThrifyFun which I didn't know existed.
So, your accident helped me find an excellent site and great help! See, there's always a silver lining!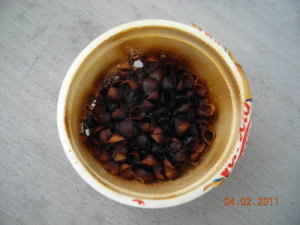 November 23, 2016
0

found this helpful
Hailey, I googled this because I did the same thing with mac and cheese. Accidents happen - don't feel bad. I was sick this past weekend and did it twice. My mother in law also told me to unplug my microwave because we have had it for a while and it seemed like the settings were on a higher level. We are all human!!!

May 25, 2011
0

found this helpful
I am sorry your parents are taking it so harshly. Trust me, accidents happen to all of us especially when we are first learning to do something new. The smell will go away, but it will take a couple of days.
To help speed up the process wipe the inside "don't forget the top and the inside of the door" with lemon juice or white vinegar. Then place a microwaveable bowl or cup of white vinegar in the microwave for a couple of minutes, leave the door closed for 5 minutes after it is done. Then wipe down the inside with Vinegar once a day until the smell is gone. The smell will go away. :)

August 2, 2011
0

found this helpful
Haily, I'll be 67 soon and just did a stupider thing than you ever thought of, and that is why my boyfriend found you. He was looking for a solution for my stench. I made bacon. I have always used paper towels under and over.
This time I had a bunch of flimsy napkins I wanted to use up. They caught fire. Heck of a nasty mess. I'm so glad you solicited all these great remedies. I'm going to use them all. Thank all of you for your understanding and kindness to us dummies. Phyl
PS Wish I'd thought to take a picture. I really wanted that bacon, too.

October 16, 2011
0

found this helpful
This is a really great trick that will take out the odor in no time. Take a bag of popcorn and open it up, dump the kernels into the microwave and turn it on. As the kernels pop, they will soak up the smell and you'll be fine. I wouldn't recommend eating the popcorn though, through it out after its been sitting fully popped in the microwave for five or ten minutes.

October 23, 2014
0

found this helpful
10.23.14 I don't have an answer and been trying to Google one. I just had to reply to this post because my 11 y/o daughter did the EXACT SAME THING on Tues and I'm trying to get the smell out of the microwave with NO luck. I can get the smoke out of the house, its just that every time you use the microwave the burn smell is emitted and that cant be healthy smelling that all the time.

January 15, 2018
0

found this helpful
The same situation happened to me when I made popcorn.
Leave the Microwave door open.
I used white vinegar.
If you have vanilla in your kitchen you can try also.
Mix some baking soda with water this will also remove the burnt smell from the microwave.
You can try lemon juice.
I think these are the very helpful tips for remove burnt smell from the microwave.