Removing Heat Marks on Table
I doubled a blanket on my dining table, and was ironing a large table cloth on it. Now I have several iron marks all over my table. I don't think the iron will work, since this is how I put them on there. Any other suggestions?
By Cindy R. from Hattiesburg, MS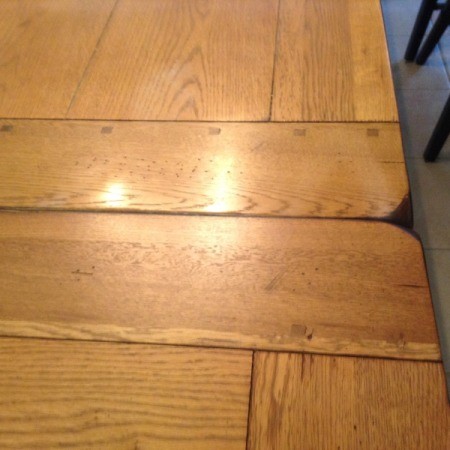 Add your voice! Click below to comment. ThriftyFun is powered by your wisdom!
May 24, 2016
0

found this helpful
Top Comment
I used coconut oil and baking soda mix on a heat stain from a white paper plate and it worked really good.
March 6, 2019
0

found this helpful
I know this sounds a little different, but I had tried so many things. Eventually, I found that taking a dry brillo pad and gently rubbing the white spot will remove stain.
You must be gentle, it will remove easier than you think. Then I wipe clean and apply a small amount of stainless steel cleaner or olive oil. I works very well and is very fast.
March 26, 2019
0

found this helpful
So you mix coconut oil,( liquid or the solid form ??) with baking soda . I am not sure how the white paper plate fits into this, do you place it over the stain or does it soak through the plate? How long did you leave it on for? Thanks for sharing this suggestion.
January 16, 2015
0

found this helpful
This is not a tip it is a question and to answer your question yes this trick will work you just need to use the steam button not auto steam on your iron and do it fast and take your time it will work though just make sure the iron is only on there for a second or two at most and make sure the steam is already coming out of it
October 7, 2017
0

found this helpful
Use what the professionals use. I have used the same product for over 25 years for my antique and used furniture business. Its called The Victorian House Finish Rejuvenator and it will eliminate white faded areas from any wood surface with one application.
No wax, No color. Its an oil base and a cleaner in one. It works every time for any finish and never removes anything except sticky build up. www.thevictorianhouseproducts.com
December 22, 2018
0

found this helpful
Cover the stain with methylated spirits and let it stand. Repeat several times if necessary. The alcohol will extract the moisture. This is my own trick and I can guarantee it. I will try and post a picture of the results/
March 16, 2019
0

found this helpful
Did you ever get the stains out?? I ironed ( with steam) a shirt on an Ironing pad on my wood table. Now the wood table has designs on the wood from the ironing pad!! Help
Add your voice! Click below to comment. ThriftyFun is powered by your wisdom!