My husband and I owned a house trailer, but just sold it to our son. We turned the heat off and it's been closed up all this winter, now the couches have either mold or mildew on them. They feel very damp or wet, it's been very cold. I thought mildew only grew in warm temps. What can I do to clean the furniture, because our son plans on keeping it. Help please.
By Pam M.
Answers
March 25, 2013
0

found this helpful
There are some things you can try. Setting them out in the sunshine for as long as you reasonably can is one. Thoroughly spraying them down with tea tree oil or citricidal concentrate mixed with water is another. Bleach would be best for killing mode but would probably damage the fabric and mar the color.
Sadly, once mold gets into something porous like upholstered furniture it is very hard to get it out.
May 11, 2013
0

found this helpful
Get a personal steam cleaner (dirt devil) its takes some work but it will get it done.
October 20, 2016
0

found this helpful
can I use White Vinegar insted of water for the steamer?
March 20, 2019
0

found this helpful
bleach does not kill mold!!!!!!!
Answer

this Question

...
My new sofa was delivered with white/black mould spores on all pieces. It is suede and has been in my home for 5 months until it was finally picked up and taken back. I have noticed a smell and white marks on the furniture in my living room. I took the blinds and curtains down and cleaned everywhere. Since the sofa has been returned I can't get rid of the musty smell on the furniture or in the room.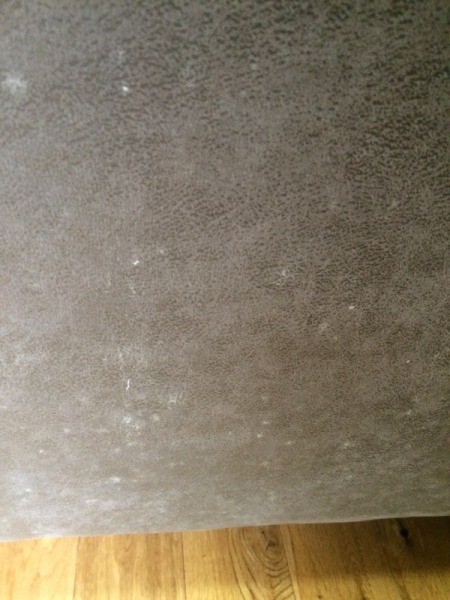 They did come out and try to clean the furniture in my home, but still the smell is still in it. My husband and I have had a terrible cough now since before Christmas. I am hoping this was not what caused it. Can you help with any advice please?
This is a photo of just one piece of the sofa when it was delivered to my home with mould spores on it.
Answers
January 21, 2019
1

found this helpful
You are entitled to a professional company to clean the mold. The furniture company should pay for it, and any medical expenses you incurred. You can take them to court.
January 21, 2019
1

found this helpful
Do you have a better business bureau or TV station that can help you get involved (a consumer reporter)?
Perhaps if you can get some help getting attention from the company/store, you will get results to get things taken care of.
It sounds like you may need a professional mold remediation process to happen. That can be very costly and since it sounds like it started with the furniture, the onus should be on the company/store to help you with the process.
Just my 2 cents worth. Mold can be quite dangerous so it is important to get things taken care of as quickly as possible. Prayers for you and your family.
January 24, 2019
0

found this helpful
Hi,
Honestly, I would look for an attorney. This company could keep doing this to others. I wish you the best in hetting rid of the mold.
--Robyn
Answer

this Question

...
I had a leak in my bathroom and it caused mold to grow on the wall and go through it all the way to my couch or the other side.
I tried various ways for removing it and failed (it keeps coming back) so I intend to buy a new couch and keep it away from the wall.
My question is, what would be a safe distance? Would 5 inches away from the wall ensure that the mold won't travel and hit my new couch as well?
Answers
April 19, 2016
0

found this helpful
I am much more concerned about the ongoing mold problem in your home and possible diseases it may cause in humans and pets. Mold forms and travels by means of sending out microscopic spores into the air. From your description, a water leak caused mold to grow inside a wall that eventually moved into your couch. A new couch will not solve the mold problem as the spores will continue to form, float in the air and out into your room and house. New mold infestations will grow anywhere there is moisture. A distance of five inches or five feet will make not any difference as the spores float in the air and land anywhere in the room and your house. The bathroom leak problem must be stopped and the internal wall mold problem eradicated completely to avoid future problems. The always helpful "wikihow" site below will provide more information on mold problems and how to remove mold from your home.
April 27, 2016
0

found this helpful
I agree with the previous poster. You need to deal with the mold in the wall before you worry about the new couch. It could be very expensive, so take the money you budgeted for the couch, and get that leak repaired and the mold eradicated.
Answer

this Question

...
What is the recommended way to remove mold from couch fabric?
By AJ
Answers
December 27, 2011
0

found this helpful
I found this link, it involves rubbing alcohol, and make sure and use a mask and gloves...
www.ehow.com/how_6386978_remove-mold-couch.html
Also when it is dry, I would always spray it with a mixture of tea tree oil and water, about a cap full of tea tree oil in a little sprayer. You can find tea tree oil at the pharmacy.
Blessings, Robyn
September 23, 2016
0

found this helpful
We tried the rubbing alcohol spray treatment for bedbugs, mites & mold/mildew. IT DID NOT MAKE ONE BIT OF DIFFERENCE - WE SPRAYED, allowed to dry, repeated, repeated, etc.
Answer

this Question

...
How do you get mold off of the couch that has been sitting up for about one year?
By amanda from Montgomery, AL
Answers
February 7, 2010
0

found this helpful
How to clean mold. get a can of old fashioned Lysol. Put on rubber gloves, spray the entire can of Lysol onto the sofa and rub it in thoroughly with gloved hands. It works, good luck.
Answer

this Question

...
Last time I moved, the movers couldn't get my couch through the doorway, so I stored it in my parents' garage. Two years later, I'm getting ready to move again, and my Dad brings the couch over so the movers can pick it up.

The only problem is, apparently water was leaking under the tarp that was covering the couch, and now one arm/side of the couch is very much covered in mildew.

What do I use to clean the couch and how do I make sure I get all the mold out?

Stephanie

Answers:
Mildew on Couch
I had a similar problem last week. We keep furniture in the basement for the kids when they have friends over. I have a Benchcraft, dry clean only, red sofa in the basement. We have had a ton of rain this summer and the basement just stayed too damp, even with a dehumidifier. Anyway, I noticed "whitish" moldy spots all over the sofa.

I plan on having this sofa recovered in a year or so. I figured I would try to remove the mold and if I ruined the fabric in the process, then "oh well". Everyone has these great big ideas on how to clean mold. I bought a can of old fashioned Lysol. I put on rubber gloves, sprayed the entire can of Lysol onto the sofa and rubbed it in thoroughly with my gloved hand.

It worked. My sofa looks great, no spots, no stains and this is a sofa that if I use plain water on it to try to clean something it makes spots.
Try Lysol, spray it thoroughly and rub it in. If there are still stains after that then I would spray it with an enzymatic pet stain remover and steam clean it. Good luck. (09/13/2008)

By Beth