A skunk sprayed under my house 3 weeks ago and the smell will not leave. I have tried everything and nothing works. The smell is even in my jewelry. Can someone please help?
Geneva
Answers:
Removing Skunk Smell from House
For all the skunk odor issues here:
Call a professional Cleaning Service. Have your air ducts cleaned, furniture, carpets, clothing, drapes, etc!
Wash down your walls and tile, clean hard floor surfaces as well. A pro service with air filtration to scrub the air and neutralize with dry vapor deodorizers will help improve the inside of your home. Also, there is a product out there in hardware stores called the Air Sponge. I highly recommend you put one in every room. This product will absorb all malodorous odors organic and synthetic as well. This product can absorb odors as strong as decomposed life of all types.
As far as the outside is concerned, you will have to wait until spring to take care of this problem. I had a job similar to this one and if you or your animals are effected by this, you should seek doctor's and vet care. The skunk spray is very strong and can cause problems with your immune system and make you sick, I know, I've been there before.
When the soil has thawed out, have it removed, go under decks or concrete porches, as well. You'll have to dig down at least 1 foot deep. Put sand, activated charcoal and cedar mulch in place allow to be exposed for at least two weeks and then cap over with new soil. Wash the exterior walls, shrubs, decking or anything else in place. This should work for you and give you peace of mind.
Supreme Care Carpet & Upholstery Cleaning
Sincerely Mark (01/30/2009)

By Supreme Care
Removing Skunk Smell from House
Some years ago we had a dog that was sprayed by a skunk. Before we knew what had happened she ran into the house and spread the smell everywhere. After hours of trying everything (some made it worse) I found Febreze helped the most. Also there is a spray call Ozium that will remove all odors. Hope this helps. (01/30/2009)

Removing Skunk Smell from House
I live in the country and we often have skunk problems. It has been about 10 years now so I consider myself to be an expert. I have had it all happen to me (including a skunk getting IN my house). I have 2 dogs that love to chase skunks to (you would think they were learn).
I have tried everything you could possibly think of. A few years ago, I came across a product called BON-CC-41 by a company called BioWorld. I almost consider them friends now because I have ordered from them so much. Their BON (odor neutralizer) is the only solution I have found that actually gets rid of all the smell in the shortest amount of time. I just keep it around the house now for whenever I need it (which is 2-3 times a year ha).

I love how it is so versatile. I can bathe my dogs with it, add it to my mop water, shampoo the carpets, and even add it to my laundry. I even used it to paint my house a few months ago and it left no paint odor behind! Not even for a day.
Take it from me, it is worth it to try this product. I don't think you will be disappointed!
http://www.adbio.com/pet/skunked.htm (02/20/2009)

By Mindy F.
Removing Skunk Smell from House
What a blessing to read all the comments on dogs getting skunked! Our Brittany "Bruno" got skunked yesterday at 5am when my husband let him out before work. It is Feb. and I had no idea the skunks were even out! Anyway, desperate-I found this website and did the peroxide/baking soda/detergent on all surfaces affected. Much better! We also took our dog to Petsmart that has a skunk smell removal wash they do for a fee. Big difference. I highly recommend that. Left him there stinky, picked him up smelling great. Thanks for all ideas. (02/26/2009)

By fitmama
Removing Skunk Smell from House
OUR STORY: Dog out (23 degree weather), dog in - luckily I find this website. We now know the skunk(s) also sprayed the side and front of the house and the property at one end. So we were fighting the stench from out and in. Most of our information came from this site but we'll add a few things.

TRUTHS - this is a crises and a nightmare. You probably will not have friends to help you through this. Anyone who hasn't experienced this will not understand. It will take time, money, and work for you to take care of the problem OR it with take time and money for someone else to do it. You probably will have to throw away some things but - not everything. Some materials just suck the smell up more than others (leather and synthetics). Homeowners doesn't cover it. I asked if they would cover odor removal for a fire-yes, animals-no. If you think it doesn't smell, it's because something else smells more. As you get things cleaned, look at this as a positive thing because you've gotten rid of a stronger smell when you now smell something else. In essence you will probably wash most everything in the house. You will probably have to wash things more than 1 time. Even when things get better you will get whiffs of smell, it's probably from drafts. When it's to that point - go the church and thank whomever you pray to.

MYTHS - It will never end.

SHOPPING LIST - Walmart has large sizes and seems to be cheaper than regular stores. Peroxide, Baking Soda, Softsoap, bleach, vinegar (white and cider gallon size), Pine Sol, Fabreze, nutmeg, cinnamon, canned coffee, bags of rags (Home Depot $14/bag), laundry soap, liquid dishwashing soap (for exterior), large bottle yard sprayer, Air Sponge(s) (hardware store $5 ea.), Nature Miracle Skunk Remover (Agway $10), Oxiclean (~$10/tub), Wallflowers ($12) plug-in air freshener from Bath and Body Works.
You will have to take care of your dog, you and your home.

IMPORTANT THINGS TO KNOW-if you don't clean and clean and clean all the ozone machines and fans are not going to help. They will tell you to wash anything your pet may have touched, well what about the stench absorbed into your clothes, furniture and rugs. If it's there, do you think it might not be sticking to the walls above the 4 ft mark the dog may have reached? Think about the dog's collar and fence receiver. Our guy got it in the face and it corroded the receiver surface. The smell was never coming off so we had to contact the Electric Fence people to buy a new collar and receiver (not cheap but necessary).
We got hit at 5:58 am on a (Wed.). I know cause I heard hubby open the door and 2 seconds later the smell was in the bedroom. Never having done this, hubby washed doggie's face, mommy washed doggie's face, dog coat washed 3x (then thrown out the next day), and we went to work.
MISTAKE #1, I was sent home for obvious reasons. That night a company that does clean-up after fires etc. brought in 2 air scrubbers, washing machine size charcoal filter fans. Well it seemed better (breathable) while they were running. We were told to shut them down on (Fri.) am and see how it was when we came home.
MISTAKE #2-doing pretty much doing no cleaning thinking the fans would do the trick. You almost died when you came near the front porch (by the way, neighbors could smell skunk through their closed windows when it originally happened and we're in the country). Horrible.

Called the Pros and they came with an ozone machine. Put the dog in a kennel, got our sleeping bags and found a place to go because you can't stay in the house while it's running. Prior to turning the machine on and leaving, we were instructed to get Pine Sol (because it's a solvent) and start washing everything down. Place many rags in a bucket, wash walls and anything else -THROW RAG AWAY, do not put back in bucket. Ozone machine on and we left. We came back in the am (Sat.) - Horrible. Ok, big hot spot at the entrance. So we bleached the porch decking and Pine Sol'd the outside of the door and doorway (poured it all over the bricks).

MISTAKE #3 not thinking about point of entry from the outside. Washed everything again, Ozone Machine back on and left. Came back that night, improvement but still bad, repeat cleanings, Ozone machine back on and leave for the night. Came back in the am (Sun.), improvement seems to be sticking (mind you the place stinks but we are lessening that in your mouth taste and gag effect). So, were crossing our fingers the improvement will stick. The windows on the end of the house were hot spots. They had to be attacked from the outside. Bleach water and a large garden sprayer (which we had at least). It took about 4x plus removing the curtains for it to finally get better (not perfect, better).

Meanwhile, the washer isn't stopping. (Mon.) It's stabilizing now aand going in the right direction. Curtains are in bags in the garage to go to the dry cleaners. My electric bill will probably be $300 with the fans, washer and dryer. We are now more into the masking of odors which you see all over this website. We wanted to focus on the source(s), doing as much as we could before we moved on to cover up. (Tue.) Tuesday night our first outsider came to the house to bring a gift of food and said she couldn't really smell it. While it's in our noses we couldn't be happier, after 7 days to be to this point. There's still a lot more laundry to do and airing out should the weather get warm some day. But we're not in crises now. It's gross to still have any smell, we've lost some furniture and possessions but keep focused on the priority - make the house livable again. We can only hope the skunks leave the property and we have some hard rains to help take care of the ground and outside air smell. We cannot imagine having this happen more than once as it has to some people.
YOUR DOG: The peroxide bath will be the cheapest and most rewarding thing you do for awhile. 1 bucket, 1 quart 3% Peroxide, 1/4 cup baking soda, and 1 teaspoon of liquid soap (animal rescue said use the cheapest Softsoap). Apply-use a washcloth for the face, don't get in the dog's eyes! Wait 15 minutes, rinse. Use your nose, repeat as needed. Wash as usual when done. My dark brown dog is now light brown. Six days out his head started to smell again after being stressed in a heated area. A quick dose of the Nature Miracle Skunk Remover Solution and bath took care of it.

YOU: Find a place for to put some clean clothes. Before going in public, shower and wash your hair, run to the clothes and get out. My husband put his clothes in the garage and changed out there in 20 degree weather. He didn't get too many stink complaints the second day at work. I on the other hand was told to bag my leather briefcase (trash), the next day it was my leather pocketbook (contents into a manila envelope, bag to trash outside of office!). So it goes. Going to work makes this that much more stressful. Get Halls cough drops to help the taste in your mouth and sinuses. You'll know when things are getting better when the palms of your hands and body stop exuding a stench and your pillow case doesn't smell as bad in the am. We both travel with a Fabreze bottle as well.

YOUR YARD: 1 cup of non-foaming (liquid) dishwasher soap + 1 gallon clear vinegar in your sprayer.

YOUR HOME: Exterior walls and decks - 1 cup bleach + 1 gallon water in your sprayer. Repeated sprays may be required. Interior - Bags of rags (Home Depot $14/bag) Pine Sol in a wash bucket, soak rags, use once and throw away (right into a plastic bag). Wash your rugs, curtains and anything fabric that you can. Don't be surprised to find some closed closets you thought were OK really smell once the air in the house isn't so bad.

MASKING IDEAS: Cheapest strong coffee in a can you can get. Put a cupful in a bowl and place in a room. Just shake it around each day to stir up the aroma. It's a welcome relief and lasts awhile. I had to put it next to the bed because the stink is still wafting from the window next to me. We used apple cider vinegar in small containers too, but only smelled the coffee so we don't know if it helped. Boil Nutmeg and Cinnamon in water on the stove (tried some other combinations but this seemed most pleasant). Don't forget to check and add water - MISTAKE #4 - boiling the pot dry. Candles were good once the horrible smell was settled down. Fabreze helps for awhile but we don't think we can sit on the chairs with that smell either so they will probably have to go. You either smell it really strong or it smells like a mix of the stink and Fabreze. For the moment it allows us to not put them to the curb. The leather recliners however, left day 1.

YOUR FUTURE: Most of the posts are from dogs going out at night. Ours never will again. He is 11 and I guess we've been lucky as we are surrounded by woods and he's always running out back barking. If it's dark or in the middle of the night, it doesn't matter. We will get up and take him out front on a leash (we have an electric fence). Because - that inconvenience, is NOTHING compared to this. Most people are not doing their posts after their crises to give us an idea of how long before things get back to normal. I'm just grateful to be to this point in 7 days. Good Luck. I hope my experience helps. This is a great website!
The Sicklers - PA
(03/04/2009)

By lvcrtrs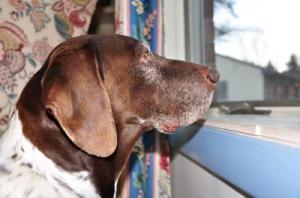 Removing Skunk Smell from House
48 hrs ago, I had 2 skunks fighting under my house, apparently both sprayed. We were driven from the house within an hour, as the smell was so intense there was no room where we could go to breathe. My son also has respiratory issues, so he needed to leave quickly. I got on this site as fast as I could and read about the ozone generators. I looked up "fire restoration" in my zip code and came up with a carpet cleaning company that rented the machines.
We had to be out for 24 hrs while the machines ran, so I gathered overnight essentials, etc. and loaded them in my car. The ozone machines were surprisingly cheap- $50 for 24 hrs. So 24 hrs later we returned to a totally smell free house. Well worth the money- I highly recommend this process to everyone. We stayed out another 24 hrs. to get rid of the ozone, and are now in and fine. What a deal. It completely works! (03/26/2009)

By RArlayne