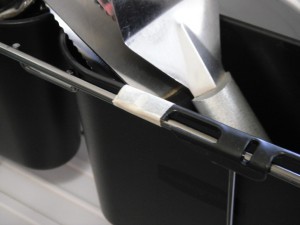 I bought a new dish drainer from Wal-mart and after washing the dishes, I noticed that part of the plastic hook on one of the silverware holders was broken. The hook has a lip on it which holds it on the wire drain rack. The hooks are fragile.
The drainer did not come with instructions on how to put the silverware holder on and I put both of them on by pressing them in place. That's not the way you do it. They slip on easily when tilted.
When I noticed the broken hook, I put my thinking cap on and came up with a solution on how to fix it. It worked and with it being a fragile piece of the silverware holder, I decided to stabilize the hooks on both holders so they won't break.
I used freezer tape, however, black electrical tape (my husband's suggestion) might work just as well and it would look better on my black holders. I'll get some and give it a try when I remove the holders and wash them which won't be any time soon.