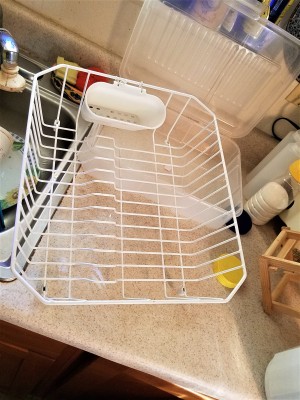 I wanted to give myself some more counter space. My drainer took up a lot, and didn't prevent water from going under and sitting there for days. So today I found the perfect size. It's sturdy, smaller and will encourage me to do my dishes more often. However, it didn't come with a drainer tray. So before I went to another store to find the perfect one, I looked around at what I had at home.
I don't like towels or those drying mats. I like something that will never again let water splash or drain on the counter. Well you gotta know I came up with the best one possible! It's a Rubbermaid container with a clasp on it. I had yarn in it, but when I sat it down next to the sink, wouldn't you know the little drainer fit in it like they were made for each other! It literally sits inside with it's legs just so and I couldn't be happier.
I encourage you to seek what you have before you spend money. It might be the thing you need to save not only gas and time but your sanity. Hope that helps!!
NOTE: I thought of taking the top off, but now want to make some hooks to hang little things like measuring cups and spoons, mini whisks and such.