Repairing a Lopsided Luggage Wheel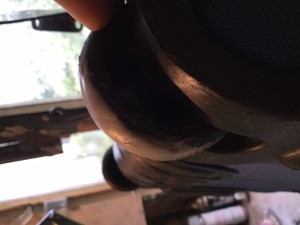 My husband and I were browsing around for luggage for our holiday, but we were on a severe budget. We came across a free piece of luggage! The issue was it had a wheel with a huge chunk taken out of it, so when you'd pull it, it would bounce up and down and make a thunking sound. Annoying! But not annoying enough for us to let it go to waste. Here's how to fix a lopsided rubber or plastic wheel using a product called Plast-aid.
Total Time: 30 minutes
Link: Plast-aid site
Supplies:
lopsided wheel, cleaned and dried
sanding tool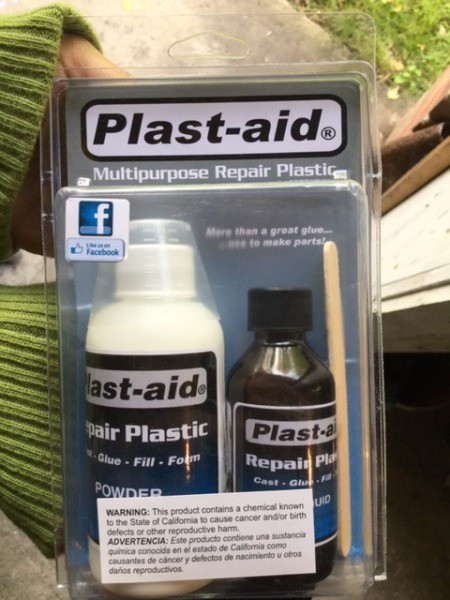 Related Product:
Steps:
Make sure you're in a well-ventilated area. Sand lopsided area of the wheel down a bit and dust off. Mix the Plast-aid components together until they have the consistency of thick cream. Apply and form to shape of the wheel. Keep molding, you'll notice it will keep getting harder. Let dry at least 15 minutes.
Take the sander again and get rid of all the rigid Plast-aid edges until a smooth wheel forms.
Push the wheel around to make sure there are no thumps. If there are, mark its thumping point and sand it down a bit more.
Add your voice! Click below to comment. ThriftyFun is powered by your wisdom!
October 5, 2017
0

found this helpful
I just learned a new idea with plastic...Thanks for the information about repairs for plastics
October 6, 2017
0

found this helpful
You're welcome! :)
October 22, 2017
0

found this helpful
I have some old (maybe 100 years) garden tools. The grain in the wooden handles has 'opened up' a lot. I would like to fill the grain and thought about using Plastic Wood but a tiny can is expensive. I'm thinking this Plast-Aid might work just as well and cost less?
October 24, 2017
0

found this helpful
Walmart sells DAP wood filler for under $3!! Check it out. I highly suggest this stuff though. It will cause things to never chip again!!!
November 8, 2017
0

found this helpful
JSYK Plastic wood is nothing like a wood filler. It is so hard, it's almost impossible to sand by hand. Most nails would bend if you tried to drive them through it.
February 15, 2018
0

found this helpful
Not Plasti-aid, its a really useful product. Its a bottle of powder and a bottle of activator liquid. Some of its features are :
-It can be mixed to a workable consistency for almost any project, from pourable liquid to mouldable putty depending on how much of each part you use. Then once youve got it in a close enough shape and its hardened you can sand it fairly easily or drill a hole, or even twist a bolt into it while still curing to make a threaded hole.
- lt will stick to most things
- You can colour it with acrylic paint
-It dries to a rock hard level
Anyway its great...here- just watch the video demo and be amazed.
Add your voice! Click below to comment. ThriftyFun is powered by your wisdom!
Related Content
Categories
Guides
More
Categories