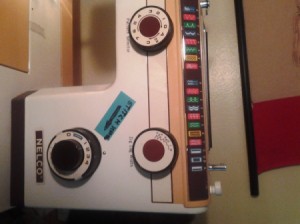 Why won't the stitch length dial/knob from my "Nelco Sierra 234F" sewing machine move?
By Olga

Answers

November 1, 2014
3

found this helpful
Best Answer
We have the exact same model and problem. I (husband) fixed it by gently moving the nob with a plumber's wrench protecting it with a rubber thingy to open jars - not elegant but it works! Now my wife will need a plumber's wrench in her sewing kit :-)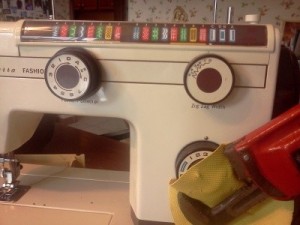 Answer

this Question

I have a Nelco sam3b-3 machine. When the reverse button is pushed in, it will sew in reverse. However when released, the machine will not return to forward sewing.
I can manually fix the problem inside the machine to make it return to forward sewing.
Answers

Judy
Gold Post Medal for All Time! 677 Posts
March 1, 2017
0

found this helpful
You probably have a broken gear or lever. Old machines have metal parts, not plastic and are generally worth fixing.

February 16, 2019
0

found this helpful
Machines often stick in reverse when they have been stored for long periods, it is caused by the lubricants becoming "gummy" or looked varnish. Before you spend money on a repair try this simple remedy, open the top (usually two screws) and warm the gears worth a hair dryer, this will frequently free it up.
Sewing Machine Solutions
Answer

this Question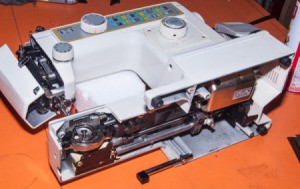 I have a Nelco Ultra Buttonhole that is frozen. This machine belonged to my mother. She was a seamstress and used this machine for years. I don't know how or what happened to the machine but nothing will move. The motor runs fine when disengaged.
By Jerry from Belfair, WA
Answers

April 16, 2015
1

found this helpful
Best Answer
You need to take this machine to a qualified repair tech - don't take it apart any farther than you already have and be sure you get all the parts to the tech or he/she will have to charge you to replace the missing parts.
I do vintage machine repair here in Scotland for my Sewing 101 students. I can't see anything wrong with your mum's machine from the photo you've posted - because the problem is inside, under the head cover.
More than likely the silicone on one of the gears has dried and cracked but without getting the cover off and being able to see the machine up close and in person I can't be sure.
Please. Save this gracious elder stateswoman of sewing and get her to a trained repair tech who has the skills, tools, and access to parts needed to keep your machine sewing.
Answer

this Question
I want to change the belt on a Nelco A-509-3 sewing machine I picked up at a thrift store. After cleaning it up, I was able to wind a bobbin, beautifully by the way, I have the bobbin winder back in the proper position. I threaded the machine, but when I try to sew on it, it moves very slowly even with my foot all the way down on the pedal.
I'm thinking that the belt might be slipping if it's dried out. The belt is encased inside the side of the machine and I can get the side partially off, but there is a button on that side for turning on the light. I do have a manual for it and there is nothing about replacing the belt. Thanks.
By Suzan
Answers

March 8, 2015
0

found this helpful
Best Answer
I'm not familiar with that make and model but after several years of doing vintage sewing machines (mainly Singers) I've learned if the user manual doesn't show the user how to do something it means the user shouldn't try to do it.
Take the machine to a qualified repair tech. Please.
A repair tech has the tools and knowledge to change that belt for you in under ten minutes. More importantly, the repair tech will know if the sluggishness of the machine is indeed the belt at all - thereby possibly saving you some fret and money - instead of randomly changing parts, by going straight to the problem, solving it, and getting your machine back to sewing, your repair bill will be lighter.
Answer

this Question

I have a Nelco Sierra model# 234 and serial #3956 and need a replacement light bulb - it is missing. What kind of light bulb is compatible with this sewing machine?
Answers

April 17, 2020
0

found this helpful
Sometimes you can find a generic bulb for these older models but I like to use the true sewing machine bulbs.
Do you have your manual? I believe it would have the type of bulb you need listed so you could order the right one.
You can probably call your local Sears Service Center (use your zip code) and ask as they probably can order one for you.
There are several places online that sell parts (may be a generic but probably for a sewing machine) and many also have a manual (may have to purchase a manual). Most sites require you to join but they are free memberships.
www.sewingpart.com/Articles.asp?ID=252
sdroasklr.mystarship.com/.../nelco674.html
Here is the best site that I have found for 'just sewing' and I think you will love it so please join and let them help you find what you need. This is one cool site for sewers!
Answer

this Question