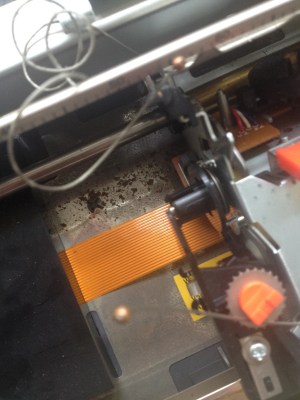 The carriage on this Silver Reed EZ20 electric typewriter had stuck in one position, approximately 3" from the left/start position. On removing the cover, I noticed one end of a cable laying in the base, this I now know, is the cable that moves the carriage along the bar.
Can anyone advise on how this cable is reconnected to the spool that is at the left end of the carriage bar? (Photo 2 & 3) I have attempted it twice so far, but there seems to be a small excess of cable, therefore I am presuming that it has to be pre-wound a couple of times, to take up the slack, or connected to the spool in a particular order?
In my attempts, the other end of the cable has now come out of the spool! There appears to be two holes in the spool, one (Photo 2) that obviously takes the 'copper coloured bobble' on the end of the cable (Photo 1), but I'm unsure if the 'bobble' on the other end of the cable also goes in to this hole and if so, in which order these cables are connected to the spool?
The second hole (Photo 3) appears to feed the cable underneath the spool, is this correct? I have attached photographs of the cable and spool, in an attempt to clarify my description.
Any answers/assistance will be appreciated, to allow me to attempt to complete this repair.
Thank you.