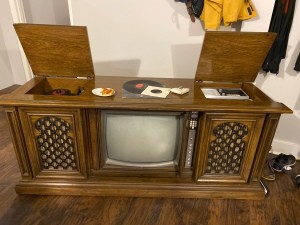 I recently bought this Magnavox 8 track, record player with TV console and I was first trying to see how I can tell what model this is and once I figure it out, how could I repair the TV? The radio, 8 track player, and record player work fine just not the TV.

Answers

poehere
Bronze Post Medal for All Time! 105 Posts
December 15, 2019
0

found this helpful
Best Answer
You will need the model number for this before you can start. Normally on the inside of the TV set in the back there should be a label to tell you the make and model. Once you can find this then you'll need to search for a repair book to understand the wires and tubes. More than likely one or more tubes are burned out.. You can easily identify these tubes and chnange them out first. Then if you are lucky the TV will work again. I do not think you will get any channels on it or you can hook it up to cable. You may need some adaptors in order to do this one.

Pghgirl40
Bronze Feedback Medal for All Time! 196 Feedbacks
December 16, 2019
0

found this helpful
Best Answer
Typically all the info you need is on the back of the wood case--usually in a lower corner on a metal or silver color tag. If the previous owner removed it, you would need to take it apart.
There are a lot of YouTube how to videos so you could see if you are comfortable doing this and getting the tubes needed (most likely still a tube TV) to make the repairs. Here are some sample videos:
www.youtube.com/results?search_query=Repairing+a...
You can still find the tubes (sometimes) on eBay and at least where I am, there are a few places still around who fix the old TVs. You could check that out also, although you would probably want one that makes house calls since this things are super heavy!
This is a neat piece! Thanks for sharing!

December 17, 2019
0

found this helpful
Best Answer
Your console was made in the 70's and that makes a very old TV.
Not sure why you want it to work as I'm not sure too many people would actually use one even if it was working well.
But, then, you could 'say' it is working but usually these tube models take real technicians to get everything working properly as well as finding all the necessary parts that may be needed.
If you live in a large city there may be a shop that fixes these older consoles but not all will tackle the TV.
There is a Magnavox web site that has a contact link and they can probably tell you the model number and may have places you can contact for help with your TV.
Here is the link:

Judy
Gold Post Medal for All Time! 677 Posts
December 16, 2019
0

found this helpful
You will have to take the TV out of the cabinet if the serial number is not visible. You cant get the right parts without it.
Read More

Answers