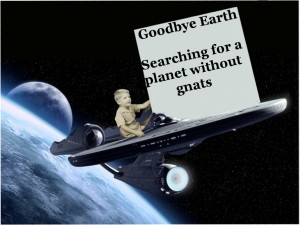 Sadly, I've had to admit that gnats are attracted to me. I assure you, it is a one sided affair.
I remember when we had what was a rather heavy snowfall for this area. I had cabin fever, even at work. I left the office and trekked through the snow to my car to eat my lunch.
Heck, I thought gnats 'died out' or went dormant in the winter. I learned differently. Peeping through a small space in the windshield not yet covered with snow, I saw a multitude of gnats. All were swarming erratically as if trying to break through the glass to get to me. I felt as though I was a cast member in Alfred Hitchcock's film 'The Birds'.
I went back inside and to the cafeteria, for coffee. There, the gnats began gnawing at my temples and ears. Three people who saw me swatting feverishly, inquired of my strange behavior. I said "These gnats are driving me crazy". "What gnats? I don't see any gnats. Probably your imagination. Maybe your hair is tickling your ears. I don't see any gnats".
After finishing my coffee, I went to the waste bin to toss in my paper cup. Upon lifting the lid, out swarmed a hoard of gnats. To those standing by, I said, "Look, gnats. Do you see all these gnats"? One replied, "Yeah. So?"
Every time I shop at Walmart, I feel like a pariah. It seems I'm the only one among 2-3 hundred shoppers with this vile affliction. While mid-store, I see a throng before me. All have rather complacent smiles on their faces. But not me. If there is just one gnat in Walmart, it will seek out and find me. It happens every time. No complacent smile for me. Just a grimace and a swat, swat, swat. Though in pain, I try my best to subdue the swatting, lest other shoppers think me quite spastic.
I have indoor plants. Gnats dwell in the soil of these plants. While I do what I can to keep the population down, it takes just one gnat to cause pain and extreme irritability. I have been 'bitten' so many times, my ears have become sore. I will not give up my house plants because of these insects. If my home was void of plants, gnats would still enter every time I open a door. I have resorted to wearing a fusible hair net to cover my ears. Not to be outdone, the gnats then head for my face, relishing my eyebrows. A thick layer of solid deodorant on the brows repels them to a degree.
I realize the ear area, particularly the temple, is a 'pulse point'. Even so, I doubt the heat emitted from this area is the sole attractant to the gnat. I think there's more. But what?
Our bodies contain remnant information of a time when we were quite different from what we are today. These remnants have the necessary information to cause our skin to grow scale like formations, not unlike a fish. Fortunately, for the vast majority of us, this information never turns into a 'playable' program. When it does, it's called ichthyosis vulgaris.
The same with tails. Actually, it is not an extremely rare incident when a baby is born with extra spinal segments. In most cases, the baby is quite healthy and the extra vertebrae are surgically removed. Again, we are fortunate. The program could play to it's fullest extent, and we all could be walking around with, or swinging from a limb by, a tail.
What keeps the program for us to grow tails, suppressed, is a mystery. I can deal with that. But, with some of the gruesome forms of body modification to be seen on the web; I'm sure there are those who would love to parade around with a six foot appendage permanently posited midpoint of their posterior.
Here's the connection:
The bull elephant has glands in the temporal region. They emit a substance called 'must/musth'. This substance is emitted during the rutting season. I've often wondered if there is a remnant of something like the 'must gland program' in our bodies. There could be, and it could be more pronounced in some.
My temporal region is emitting something which attracts gnats. It is not heat. The area is the gnats first choice. They will go to other, warmer parts of my body only if they can't get to the temples. Maybe I emit a pheromone like substance detectable only by gnats.
What would it take to find what is being emitted from my temples that attracts gnats to a ridiculous degree? Swab/culture? Gas spectrometer? Other? Maybe the procedure or analytic equipment is so sophisticated, it hasn't been invented, yet.
Oh, but when it is! If whatever that substance is, could be synthesized and bottled, I would gain patent rights and do quite well for myself. But then, with my luck, it's probably not a 'substance' at all. Our bodies also emit 'frequencies' of different levels. Perhaps, radiating from my temples is a frequency that says to the gnat, 'Here is what you want. Here is what you need. Come. Feast. Show no mercy. Eat the man alive'. I doubt I could patent a frequency, though. Maybe I could invent a device to 'scramble' the frequency. (I jest).
I'm not ignorant enough to believe I'm the only one with this problem. Others just haven't spoken up. Or, maybe some have. In any case, the best I can offer as a tip is protecting the temporal area with a fusible hair net. They are extremely light weight, and breathe. I got a hundred from Amazon (maybe eBay, I forgot), for about $6.00.
When they then attack the eyebrows, I apply a thick layer of solid deodorant. This should work unless your brow area is sensitive to the deodorant.
Not to be outdone, if the gnat can't access your temples or brows, it then will go for the eyes. Sadly, in this case, my only recourse has been to take the net from my head and place it on my face, making sure the ears are covered, as well. Granted, this drastic measure is rather immobilizing. You can see through the net, but everything is a blur. I've tried cutting out some eye holes, but haven't yet figured out how to keep the holes positioned over my eyes. I'm working on it. I will succeed.
Years ago, I did get a little tube of repellent from Avon. It helped some, but you shouldn't put it near your eyes. When the 'Avon lady' told me the small tube would be $8.00, I screamed, EIGHT DOLLARS! She replied with a smile "Yes, just eight dollars. The regular price is twelve. We're giving you a discount because you're a first time customer". Twenty years later, I hate to think what that little tube would cost, now.
There are several species of a most handsome, tiny bird, the Gnatcatcher. Cuter than a canary, more charming than a chickadee. Perhaps I could learn their lifestyles and make my home and surrounding area attractive to them. Yes, that's it! I could raise huge flocks of them. I can just see them now. Hundreds darting everywhere, gulping down every gnat in sight. Peace at last. Thank you, my sweet feathered friends.
Doug, you're dreaming. Finish this post and submit it while you still have a scruple of sanity. A tiny scruple the gnats will steal away, given half a chance.
Ouch! They've started.
PS
Electrifying my body with a tens unit had no effect on the gnats. I think they got a 'buzz' off the juice.