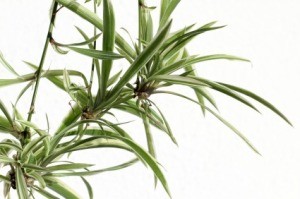 When you want to propagate those baby spiders, you may wonder what to use if you use the method of cutting it off and growing the roots in water. I am doing this all the time with my big spider plant; I give them to my kids, and place them by the bed for my asthmatic husband.
Here's how I do it: I know many of us drink a lot of 20 oz bottles of soda or water, right? Take one of those, and some ordinary scissors, and cut the bottom off at the bottom of the label. To start I pinch the side of the bottle. Or you can use a knife to start it but be careful! Anyway use that bottom to put two or three babies in and fill it with water.
Then I put it on my window sill (north, if it matters I'm not sure) and check to make sure it doesn't run out of water. In a matter of a couple weeks there will be roots. Then you can put it in rich moist soil, and give it a little extra attention until the roots take hold.
Don't worry about how long you keep them in water to grow the roots, the longer you keep it in water the longer the roots get. I haven't had one die in water.
Source: My first plant was a spider plant, my mom had them since as long as I can remember, and 30 years later she still has the same one!
By Pauline Morse from Georgetown, DE
Read More

Comments
Q:
I have a spider plant that is outside hanging from a tree. It is doing very nicely this summer and it has a few "babies." How should I plant these?
Thanks in advance,
Marta
A: Marta,
One of the best qualities of Spider plants is that propagating "spiderettes" from the runners (stolons) of the mother plants is easy. Fill a pot full of quality potting mix and select the plantlets you want to propagate. You can use one pot to start all the babies in (dividing them up later) or you can start each plantlet out in its own little pot. Use a hairpin or u-shaped wire to pin each plantlet down into the new soil while still attached to the mother plant. Water the babies while they develop roots in their new locations. Once new rooting has taken place, fresh growth will appear. Now it's safe to snip them off from the mother plant, place them in individual pots and continue to raise them to adulthood. This method also works with strawberry plants. FYI: Tests done by NASA determined Spider Pants are one of the best houseplants for filtering contaminants out of the air.
Answers
July 21, 2005
0

found this helpful
I have a spider plant that's about 6 years old. When the babies start to get roots on them you can cut them from the plant and put them in potting soil and they'll grow. Or if your babies don't have roots yet you can root them in water. It takes a week or so for them to get roots and then you can plant them.
I always start my baby spider plants in a small container like a laundry detergent lid. When it gets too big for the lid, transplant it into a bigger container like a small teracotta pot . I usually plant 3 babies into the pot together. Then when the roots start to grow out of the bottom of the pot you can put it in a hanging basket. This takes about a year but you'll have lots of spider plants when you're done. Good luck!
July 21, 2005
2

found this helpful
When I had spider plants, the babies would have babies. I would keep them on, and they would grow and grow. Also, to make the mother plant fuller, I would bend a paper clip to use as a stake to keep a baby on top of the soil of the mother plant. Keep it there until it roots and then clip the stem and remove the paper clip. You can also keep the babies attached and stake them with the bent paper clip in a new pot kept close to the mother. Then cut the stem when the baby is fully rooted. In order to do this, place the mother on a table and put all the new pots around so you can easily stake the babies.
By cindy. (Guest Post)
March 23, 2006
1

found this helpful
I have a spider plant I started from a baby off one of my sons plants. It is a year old this month and the plant is very healthy and getting big, yet there are no babies! What am i doing wrong? Been told there is not a female and male plant.
By stephen hallett (Guest Post)
May 30, 2006
0

found this helpful
When will my spider plant start to shoot runners? My spider plant is 6 months 28 days old.
By gturner1 (Guest Post)
September 10, 2007
0

found this helpful
I have a spider plant that is root bound. I want to transplant it into a hanging pot, however the plant has so many roots it will not set down in the basket. Can I cut the roots?
Answer

this Question
I have several spider plants with babies some of them 5-6 inches long, but I see no root buds or roots on them. Can they be repotted without the roots? Or is there something I can do?
Thanks.
Answers
November 25, 2015
1

found this helpful
No, they won't "take" without roots.
Float them in a bowl of water until the roots form. When they're an inch or longer pot in well watered soil. Once you're sure the roots have taken, start watering only about once a week.
November 25, 2015
1

found this helpful
By the way, I didn't mention this but it's okay to cut them off the mother plants to root them. They won't die unless they somehow fail to make roots.
Answer

this Question
How long can babies stay with the mother Spider plant?
By Terrie V Bane from Las Vegas, NV

Answers
July 13, 2009
0

found this helpful
I have plats with babies on that have been there at least two years- basically, leave them on whilever you feel the plant looks good and fits your space!
Maureen
Answer

this Question