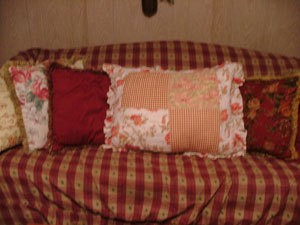 Use pretty pillow sham covers as pillows on your sofa or as throw cushions! I see these all the time at Goodwill for a buck or two, and I decided to make use of them. My kids like to use them as floor pillows, as well. Plus if your sofa is kind of tired looking you can add a couple and give it a whole new look.
By Carol from Landisville, PA
Read More

Comments

Maryeileen
Bronze Request Medal for All Time! 59 Requests
We don't use pillow shams and I bought 2 king size summer quilts that came with 2 free shams each. Any ideas on what they can be turned into?
By Maryeileen from Brooklyn, OH
Answers

April 1, 2012
1

found this helpful
You can keep them in the linen closet for sheet sets, pj's, storing quilts or blankets, or just give them to the local women's shelter. Good luck.

April 2, 2012
1

found this helpful
You could stuff them with cedar chips, sew up the opening, and use them as a pet bed. The cedar chips will keep down the fleas. This pet bed can be put on the floor or on the spot on the couch where they like to hang out.
It can also be a liner for their pet basket. Stylish and matches your bedroom set.

susan
Silver Feedback Medal for All Time! 472 Feedbacks
April 2, 2012
0

found this helpful
They can be used to make throw pillows, cut into strips for making a rag rug, used to cover hangers or to make sachets, used to make a window valance, to cover a box for storage, or a million of other things.

April 2, 2012
0

found this helpful
Depending on how the shams secure, I had an overlapping sham back. I cut this sham in half, hemmed the edges, and used these to cover the back of folding chairs.
I used a complementary chair cushion and I always got a lot of positive comments to these plain folding chairs.

Maryeileen
Bronze Request Medal for All Time! 59 Requests
April 14, 2012
0

found this helpful
ok384, they have overlapping backs so your idea would work for me.
Thanks to all for the great tips!
Read More

Answers
I have a number of pillow shams (some with zipper and some without) that are new or "almost new". Does anyone have any ideas on how I could use these shams other than putting them on my bed? Many of them don't match any longer.
Any and all ideas would be appreciated.
Thanks.
Anjeena
Answers
Here are some uses for pillow shams:
lamp table tablecloth
tv tray cloth
placed on armchair for seat and back cushions (with slim pillows in them and matching) on top of actual large ones, for a different look
couch cushions (all matching or co-ordinating)
bedroom Bible/magazine holder - placed under mattress and hanging down the side half way (for split back shams)
large placemats
Have fun with them and enjoy your shams!
By tonya (Guest Post)
February 23, 2005
0

found this helpful
thetype with 'quilt' pruints make really pretty wall hangings for country theme rooms. doll bedspreads for lace edges, fold in half ( split backs) with pockets out and add strap for voer night bag / purse. Add two apron ties for pretty aprons with built in storage at top either side for adult or neckloop at top and two in center for kids.
By Amethyst (Guest Post)
February 23, 2005
0

found this helpful
I have always used extra shams to store my blankets and quilts when not in use. I just fold whatever I want to store to fit into the sham and then put a bunch of mismatched shams all over the bed in my guest bedroom.
Looks really nice and cozy.

February 23, 2005
0

found this helpful
My husband and I used the extra shams from our bedroom linens to cover two dreadfully ugly trays. We now have a matching set of breakfast-in-bed trays that can be left next to the bed without ruining the decor.
By Barbara (Guest Post)
February 23, 2005
0

found this helpful
You can make a nice quilt out of them - a small one for a crib, or child's bed, or a larger one for a twin.
Fill each sham with padding - then stitch an X on the sham (corner to corner) which will hold the padding in place. Sew the shams together either by machine or by hand
Thank you all for your terrific ideas about uses for pillow shams. So creative.
One more question, please?
I also have two king sized bed skirts (again, not matching). Any ideas on uses for these. The base is white and the ruffles are different.
Thanks again.
Anjeena
By Guest (Guest Post)
February 24, 2005
1

found this helpful
I use pillow shams as large doilies under lamps on my antique end tables, especially if the lamp does not have the little felt feet. It protects the wood from scratches.

Marcie
Bronze Feedback Medal for All Time! 121 Feedbacks
February 24, 2005
0

found this helpful
I use pillows in pillow shams on my couch and chairs as decorative pillows. Being larger, they are more comfortable. They also help keep the couch clean because both my dogs like to sleep on it. When the pillows get dirty, just throw the sham in the wash!
Marcie
A bedskirt could be used as an underpad on a dining table with a tablecloth on top. (not waterproof though)
The decorative sides of the bedskirt could be cut and made into pillow covers.
The plain part of the bedskirt that goes on the boxspring could be used as a small quilt backing or curtains. Quite often that part is muslin or white cotton
By Tim (Guest Post)
February 25, 2005
0

found this helpful
I use them to re-cover the chair in my bedroom. I have a matching set to the bed.

March 8, 2005
0

found this helpful
Why not just use them for floor pillows in the bedroom or family room. You can always try scanning the family photos and iron on, or collage of friend and family photos. Maybe some special stitching or scrapbook-like media and pass them on for gifts.
By delanese
By Annette (Guest Post)
November 8, 2005
0

found this helpful
If color/size right a valance or small curtain.

December 20, 2009
0

found this helpful
I cut up special fabrics of some of the prettiest ones to make laprobes to give away, I'm always on-the-prowl for cheap fancy fabrics for my small blankets, and some have nice cording around them to use for my other crafts.
Read More

Answers