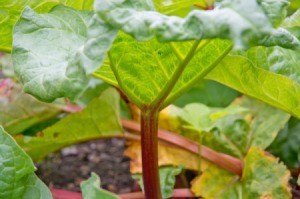 Question:
Why are my rhubarb plants turning yellow and soft? I have 3 plants, two have done this.
Hardiness Zone: 9a
Jim from Santa Ynez, CA
Answer:
Jim,
Getting rhubarb to grow successfully in your zone may be a tall order. Rhubarb does best where it gets cold. In fact, it will be the most productive if it experiences occasional winter temperatures below 40 degrees F.
One possibility is that your rhubarb is simply getting to much heat. You might want to consider erecting a cheap screen to give it some afternoon shade. A roll-up blind will work well for this because it will still provide your rhubarb with some filtered sunlight, while cutting down on the heat.
Water is another problem in warmer zones. Due to their broad leaves, rhubarb needs a lot of it, especially in warmer zones. I would recommend watering at least every other day as well as giving it an occasional boost with a liquid fertilizer.
Rhubarb needs soil with good drainage, especially when grown in areas that experience high levels of humidity. Yellowing and wilting leaves could simply be a lack of water at crucial times. Then again, the soft stalks may also point to a fungal disease. Check the base of the crown for white fungal growth or rot spots. Affected plants should be completely removed, disposed of in the garbage, and replaced with new plants.
Ellen
By millard_crystal (Guest Post)
July 22, 2008
0

found this helpful
Did you let your plant go to seed? I cut off the seed heads as they show and then mow off my plants in July and then have a fresh new crop ready by fall.

Harlean
Bronze Post Medal for All Time! 148 Posts
July 24, 2008
0

found this helpful
It may be that you are in planting zone 9. Rhubarb does not do well in a warm climate. I grew up in Iowa where rhubarb patches just keep expanding year after year. But in Arkansas, the winters do not get cold enough so rhubarb, at best will grow for a couple years, and then it sort of just disappears.
I have tried several times to grow it with very little luck. We visited family in Iowa in May, and I brought back a few plants, and planted them in a shady spot, but they have disappeared. If I am lucky, I will have new growth in early spring, but I am not too optimistic.
Harlean from Arkansas