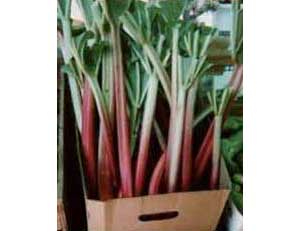 Question:
When is the best time to relocate a rhubarb patch?
Hardiness Zone: 4a
Lu from Parkers Pr. MN
Answer:
Hi Lu, In Minnesota (incidentally, I grew up in Fergus Falls), the best time to dig up and transplant rhubarb is in the early spring, just before new growth starts. You'll want to divide the plants into separate pieces that each contain one or two healthy looking buds. Select a site in a sunny location with good drainage and work in some compost or a cup or so of organic fertilizer (5-10-10). Replant each piece so that the buds are 4 to 6 inches deep. Rhubarb likes to be relocated this way every 6 to 8 years.
Here are a couple of great rhubarb recipes to try. The first was taken from the New York Times. The second is an award-winning recipe from the Minnesota State Fair entered by former Minnesota resident Dorothy Coyle. It's from her book, "Dorothy Coyle's 10,000 Ribbons."
Rhubarb Soup
2 lb (approx) rhubarb cut into 1.5" chunks
4 c. water
1 c. sugar (or a little less, to taste)
1 orange for zest and juice.
Bring rhubarb, sugar, half of the minced zest of the orange, and all of the juice you can squeeze out of it to a low boil. Turn down and cook for about ten minutes or until the rhubarb is soft and beginning to fall apart. Chill and then stir in remaining minced zest. Eat plain or with yogurt, ice cream, etc. Makes 2 quarts.
Rhubarb Jam
5 cups rhubarb
3 cups sugar
1 cup crushed pineapple
3 pkgs. raspberry or strawberry Jell-O.
Mix and let stand overnight or several hours to bring out the juice. Combine 1 cup crushed pineapple with the rhubarb and sugar and bring to a boil. Dissolve 3 packages Raspberry or Strawberry Jell-O in the first mixture. Put into sterile jars and seal.
Ellen
By diane from wisconsin (Guest Post)
September 3, 2006
0

found this helpful
We just transplanted Rhubarb this spring and again this August. Both are doing well.