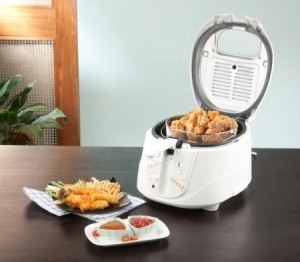 Every time you buy a half gallon of frying oil, you read in the newspapers that cooking oil you just bought is not good to cook with! What are safe frying oils to cook with? Whether you stir fry, deep fry, or love to eat fried foods, we need safe frying oils. Some articles say olive oil is for everything then you read that coconut oils are good. In another article, it says coconut oils are dangerous to fry with! Then what are the safe frying cooking oils to fry with?
By Krissttina Isobe from Honolulu, HI
Answers

June 24, 2011
0

found this helpful
Best Answer
On our last trip to the heart dr. my husband and I carried on this exact conversation......
1. Olive oil was best and virgin the better of this.
2. Canola oil is next
3. Peanut oil is next from there on it is a toss up
Now for frying if you frying for 3 or more people I suggest peanut oil and if you can get the one that says peanut oil as its only ingredient it will fry somewhat similar to lard.
The problem with Lard nodays is that the government requires that it have additives added to it and therefore is not any good any more. Doesn't cook or taste like it used to. If you can find pure Lard it will fry without absorbing so much grease and will cook at a higher heat. I truly like the lard better because when you get thru frying if you didn't use a lot of breading you can measure the lard back and you'll find all but maybe 3 tablespoons of it still there.
This is the truth as I have done it years ago when the government said lard was bad for your health. Actually until they placed the additive in it it was better than what you have now. Except Olive Oil and it was about the same and will also take the high heat.
Point is that Olive Oil is imported and Lard was made in USA. In fact you could make your own. No government needed.
An interesting fact: you cannot make flour tortillas the way the mexicans do without true lard without the additives. This is from the Mexican cooking and as he said you can make them but not the same.

Marjorie
Silver Feedback Medal for All Time! 290 Feedbacks
June 23, 2011
0

found this helpful
Coconut oil is high in saturated fat. Since I've been diagnosed with high cholesterol, my doctor advised me to cook with canola oil instead of vegetable oil. Canola oil is lower in saturated fat then vegetable oil. The next time you go shopping read the ingredient labels on the bottles and compare the ingredients. I don't eat a lot of fried foods because of the high cholesterol, and take medication to keep the cholesterol down.
A doctor would highly recommend baking or broiling instead of frying. Fried foods will eventually clog your arteries, and could result in heart problems. I make all my own salad dressings and use canola oil as one of the ingredients when making Italian dressing, etc.
Why don't you do an internet search on cooking oils and see what information you can get from the websites?

June 24, 2011
0

found this helpful
P.S. not all saturated fats are bad for you, as with anything, moderation is the key. Saturated fats are actually good for you in low amounts, that's why full fat dairy products help people lose weight.

June 24, 2011
0

found this helpful
If I have to use oil, I decide whether to use extra virgin olive oil or canola oil by temperature. If you need to fry, use canola as it can withstand higher heat than olive oil.
If I use it to fry on medium heat or lower, or other things. I always use the extra virgin olive oil.
Read More

Answers