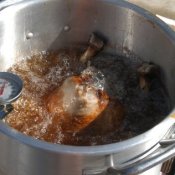 I am looking for hints for deep frying turkeys.

Connie from Athens, TN

Answers

November 17, 2006
0

found this helpful
The thing that I have found the most important is to make sure you keep your oil at the correct temperature. Also if this is the first time using your turkey pot make sure you follow directions to determine the amount of oil to use. After that it is easy sailing. I use injectable marinades in my turkeys all of the time. I will even do half of the bird in different flavors.

November 17, 2006
0

found this helpful
I saw a news story last year about a house fire started by a deep fat fryer outside. Make sure it is away from your house, not under the eaves or near a wall. It was amazing how quickly the grease fire got out of control.
"For added safety, have a fire extinguisher, oven mitts and pot holders nearby. To add flavor with different marinades and seasonings, you may want to purchase an injector.
Place the fryer on level dirt or a grassy area. Never fry a turkey indoors, in a garage or in any other structure attached to a building. Avoid frying on wood decks, which could catch fire, and concrete, which can be stained by the oil. "
From: www.eatturkey.com/.../fryturk.html
There are also some good tips here.
Susan from ThriftyFun
By IMAQT1962 (Guest Post)
November 17, 2006
0

found this helpful
WE TOO INJECT EACH SIDE WITH DIFFERENT FLAVORINGS. I CAN'T GO BACK TO EATING TURKEY BAKED IN THE OVEN NOW THAT WE DEEP FRY OURS. NOTHING LIKE IT. IT STAYS SO MOIST AND IS SO EASY AND QUICK TO DO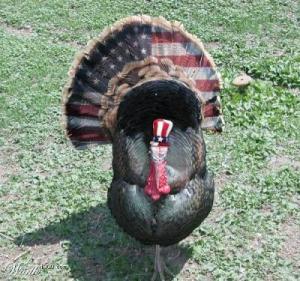 By Judy (Guest Post)
November 17, 2006
0

found this helpful
Try catching Good Eats with Alton Brown on your local cable or satilite provider. It's on Food Network TV. He has an episode that will be replayed a number of times called "Fry Turkey Fry" and it has safety measures to take and just plain good cooking for deep frying your turkey.
Believe me it looks so good I wanted to do one the night I saw it.

November 17, 2006
0

found this helpful
Yes you should do this well away from the house, but more important and one of the biggest problems with frying turkey is the fire hazard due to overfilling the pot with oil. Remember that the turkey is going to displace the oil in the pot once you add it, so you need a lot less than you think. One way to check this is to put your turkey in the container and then cover it with water. When you pull the turkey out, note where the water line is before you dump out the water. This is where your oil level should be when you get ready to fry.

November 18, 2006
0

found this helpful
SOrry, forgot to mention: if you don't like the flavour of roasted turkey (or roasted anything) add ... mustard, chutney, spices/herbs. Much healthier.
"~)
Rose Anne

November 18, 2006
0

found this helpful
You got the BE CAREFUL tip.
Be sure your fryer is stable and will not tip over.
Next be ready to remove hot turkey from fryer, know what you are going to use and have it ready.
Alton Brown's "Fry Turkey Fry" on Food Network was
very informative safety and how to brine turkey.
I have seen in 3 times in last week.
He seems silly but he knows his stuff.
Happy Thanksgiving.
By Dee (Guest Post)
November 21, 2006
0

found this helpful
Fried turkey is much moister on the inside and crispier on the outside than oven-baked turkey. The night before Thanksgiving, the turkey is nearly all thawed. My family rubs a generous amount of cajun seasoning (like Tony Chachere's or Zatarain's) over the outside of the turkey and sprinkled throughout the inside.
We let it marinate overnight in the refrigerator just like that until ready to fry the next day. It comes out with such a nice flavor!
Answer

this Question