August 20, 2010
0

found this helpful
Ha! I just cut off all the enameled metal buttons off a slightly moth-eaten knit jacket I was donating to the thrift shop last week. (Sometimes it would be worth it to buy a thrift shop item just for the buttons & I have bought items without buttons cheaply & replaced them myself!)
August 21, 2010
0

found this helpful
Have to thank you for bringing memories back this morning, of grandma, aunts and mom. I have button boxes, tin ones, that belonged to my mom, mom in law and grandma (no one else wanted them), and of course, I cut and put ones in, also, they can be used on cards and scrapbook pages.
I do both, and children's clothing ones can be used to decorate their pages, to make them special. Ive even changed an entire set of buttons on an outfit when I've lost one, because of my stash, and I'm 66, and think our days of being simple were the Best!
August 21, 2010
0

found this helpful
My mother also had a can filled with buttons. As a child I loved to go through it and look at all the different colors and shapes. In my 30's I had a business "Button Boutique" in a flea market till the market went out of business. I loved it. I still have an 8 draw metal cabinet filled with buttons and appliques. When I get a spot I cannot remove from a blouse an applique often comes to the rescue. I like your tip of threading a set of buttons together when they are in a container.
August 21, 2010
0

found this helpful
Thank you for your story as it brought back fond memories of my childhood. I was a sickly little kid so spent many days in bed when I was ill. My parents didn't have much money so one of the things my mom would give me to play with was her button tin. I spent many hours pouring through the collection of buttons which even included ones from my Grand Mothers clothes.
When my mother passed away I kept her button bin and felt very selfish doing so as my sister in law wanted to give it to her church for the kids to use with crafts. I just couldn't part with that little bit of my family history!!
August 21, 2010
0

found this helpful
Add me to the list of those who remember playing with my grandmothers' buttons! I did the same things, finding matches and oohing and awing over those with rhinestones and the like. I passed many hours playing with simple buttons! I now have my own button tin that sure comes in handy for odd projects and for a quick fix!
August 22, 2010
0

found this helpful
I, too spent hours on rainy days sorting buttons. It is a small, but sweet pleasure even now that I am 57.
It is relaxing and it takes your mind off worries. I also make buttons from clay-Fun!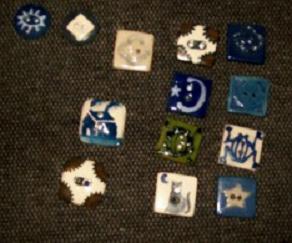 September 14, 2010
0

found this helpful
Thanks for all your comments. It means a lot to me that something as simple as a button can be dear to ones heart.
I am so glad I brought back wonderful memories for you and that you stuck by me.
Big hugs to all and God Bless!
Gem
September 21, 2010
0

found this helpful
I would like to say that your buttons are wonderful!
September 10, 2017
0

found this helpful
I sort my black and white buttons by color and size since I have so many of them. I put them in clear baggies.
All other buttons are sorted by color only and in little baggies. Then all baggies are in a big clear container for easy access.
September 10, 2017
0

found this helpful
Hi I collected buttons in a tin and it weighed really heavy a lot of buttons one day I had a car boot and took the buttons along my Daughter said mum don't take those no one will want them she was wrong a girl at the car boot said to me how much do you want for your tin of buttons I said I don't know what they are worth. Then a lady ( The girls mum ) said they would mean a lot to her she is a student and is studying design Oh then I said in that case have them for free she was so grateful they will be so useful she was happy and so was I because they were going to a good cause who would have thought saving buttons all those years never knowing where they were going paid off so to speak
October 15, 2018
0

found this helpful
You have brought back memories for me as well,only my fondest memory was when we went to visit my Aunt. She collected the most unusual and beautiful buttons I had ever seen as a child! She sewed them to a hanging tapestry which made them even more amazing to me, I often wonder what ever happened to that tapestry. --- I still love buttons to this day.I didn't have mine in a tin, however. I have my loose buttons sorted by color and put in clear jars sitting on my window sill. My carded buttons are in a shoe box, plus I have others in plastic containers with dividers. I guess I have them everywhere!!! With some of them I make button flowers then make little flower arrangements in small vases.
September 22, 2018
0

found this helpful
Thrift stores here wont even try to sell a garment with buttons removed They sell it off as rags