Saving Money on Buttons
Solutions
Share on ThriftyFunThis page contains the following solutions. Have something to add? Please share your solution!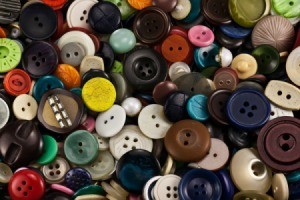 One of the things I remember from my childhood is my Mamaw's button box. She must have had a billion buttons in it. She kept a large tin box about 10 inches high full of buttons. When something was too old to use again, we cut off the buttons and strung them together so we wouldn't have to sort out the whole bunch looking for a set of buttons for something she was making. I still love collecting buttons and I also thread them together to keep them sorted.
Saving buttons was a thrifty way to have on hand something that was needed. We never threw anything away that could be used for other things. We had to be frugal in order to live. I loved the button container. I would sit for hours going through it and picking out buttons I liked. There were so very many buttons in the can it was just like a treasure hunt for me. Life was simple and laid back back then. Makes you wonder what happened to change all those wonderful days to hectic and unorganized lives that we live.
Buttons back then were expensive and they are more so today. So next time you start to pitch a shirt or something that is no longer usable, be sure to cut off the buttons and string them together with thread, so the next time you need a button you'll be able to find them easily and save you some money.
By gem from Gordonsville, VA
Read More Comments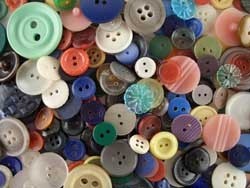 Tips for saving money on buttons from the ThriftyFun community. Post your ideas.
Remove Buttons From Thrift Store Finds
To save money when I need to replace buttons, I go to our Goodwill bargain room and search for a garment with the same size and type button as the ones I need instead of buying them at a regular store which can be expensive. Most items in the bargain room are only 50 cents. I also look for items with pretty, cute or unique buttons, no matter what the garment itself looks like. These can be used to make a suit or dress or top you already own look fresh and new just by changing the buttons.By Diane
By ThriftyFun
Save Buttons Before Discarding Clothing
This post brings back memories of my mother who would never retire a piece of clothing to the "rag bag" without first removing the buttons. She always had an endless supply of buttons. I can remember as a child, it was such fun for me to "sew" together the matching buttons from a garment after it had seen its better days.
By Ruthie
Be On The Lookout For Buttons Everywhere
Like my mother before me, I have a button box and a button jar. I put stray buttons in it and take buttons off clothing I trash. One could almost buy a thrift shop piece for the buttons! I saw a jacket with fabulous ones and I kick myself that I left it behind, as those buttons on it cost something like $10 each!
By pam munro
While You Are At The Thrift Store...
Have you priced patterns recently? Unless on sale, they can cost over $10.00 plus. When in the thrift stores, look for an item: dress, blouse, skirt that appeals to you and use that as your pattern for a new garment.
By Sewingmamma
Modify Or Make Your Own Buttons
Two ideas:
You can dye plastic buttons, as long as they're white or quite light in color. Use a small glass container. Start with food coloring, mixing colors to get just the right hue. Add some vinegar and warm water (just as you would for Easter eggs) and put your buttons in. Leave the buttons in until the right shade is achieved - this will likely take several hours or longer. Let them dry and sew them on. The color may wash out slightly in the washing machine, but you can recolor if that is much of a problem. I came up with this when I couldn't find the proper color of buttons for a dress, despite checking numerous fabric stores!
You can make buttons from polymer clay. They can also be painted, if desired. These are wonderful for crocheted or knitted items and "crafty looking" clothes, purses, etc. It's easiest when you need fairly large buttons and just a few of them!
By Liz
Read More Comments
Save buttons and zippers from old clothes. Use buttons for updating clothes, pictures frames, etc. Be creative and save money, too.
Read More...
I collect and save buttons. I look for garments with pretty, or different buttons at yard sales and thrift stores, and buy them for the buttons, alone. I remove buttons from my worn clothing.
Read More...
I search thrift shops for clothing with fancy buttons (buttons are expensive). I buy an article of clothing for 1.00 or 2.00, take it home, remove buttons and sew on a plain blouse or the pockets of jeans.
Read More...
You can spiff up plastic buttons by coating them with nail polish (if you are careful, you can do it without even taking them off...
Read More...
Check at garage sale free boxes for dresses and blouses that have pretty buttons. These buttons can be cut off and reused (or collected) and it didn't cost you a penny. Also, watch for sweaters and other crocheted or knitted items in the free boxes.
You can ravel out the stitch work and re-use the yarn or give it to somebody you know that crochets or knits. By Kathie
When my twin boys were in grade school, one of them always came home from school missing a button. It was very frustrating, but they were very good at keeping the button and bring it home. Then it hit me!
Read More...
I have a pal who cuts off all the buttons off old pieces of clothing that she's not able to donate or re-sell (stained). She keeps the buttons she thinks she'll use when making her own family's clothing. But the extra buttons, she accumulates in a see thru box stashed away.
Read More...
Frequently clothing items such as sweaters, shirts, and coats will come with extra buttons or small rolls of repair yarn. This is a page about saving replacement buttons and yarns for clothing.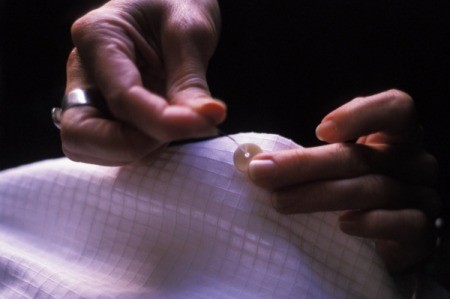 Archives
ThriftyFun is one of the longest running frugal living communities on the Internet. These are archives of older discussions.
If you plan on making a shirt that has buttons on it into a rag, be sure to the take buttons off. Buttons serve no purpose on a rag and you can use the buttons for something else. Once you have taken all the buttons off, sew them all together so that you will have a matching set. This is much better than tossing them into a jar and having to sift through buttons for a matching set.

Answers:
Tip for Saving Buttons
You could also thread the buttons on a twisty tie (recycled from the bread). The twisty is stiff enough to thread the buttons easily and is quicker than threading a needle. (06/22/2004)

By Cheryl
Tip for Saving Buttons
I thread mine on to a large safety pin. (03/15/2006)

By Cheryl from Missouri
Tip for Saving Buttons
Good common sense! This is what we need more of now, in this economic down turn with the economy struggling. Thank You! (01/12/2009)

By Sue
Advertisement
Published by ThriftyFun.
© 1997-2020 by Cumuli, Inc. All Rights Reserved.
https://www.thriftyfun.com/tf789540.tip.html