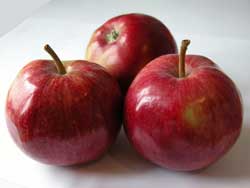 Make Your Own Applesauce
Tips for Saving Money on Apple Sauce as suggested by the ThriftyFun community. Post your own ideas below.
Make Your Own
If you find a good buy on apples, make your own. I particularly like making my own from apples that are a little past their prime. I put them in a pot with a little water without peeling or coring. I do cut out any bad places. Cook on low for awhile until they are cooked down and mushy. I then put them through my food mill, peelings, stems, seeds, everything, and very little is left after processing. (What is left goes in the compost.) I freeze my applesauce in one cup containers and it stays nice and fresh.
If apples are expensive, I buy the big containers at Sam's. After having a jar opened a couple of days in the refrigerator, I freeze what's left in one cup portions, or divvy it up in lunch size containers for my husband's lunch and freeze it. One of my friends says she never buys the big containers because it always molds before her family can eat it all and I told her to freeze it!
By Susan M.
Local Orchards
Every fall I go to the local orchards in my area. I ask for "seconds" which are about half the price of "firsts". Nothing wrong with them, just not real pretty looking. I usually get three bushels of two or three types - Jonnygold, MacIntosh, and Jonathan. One bushel yields 14-17 quarts. No sugar added and I freeze it after it is processed. Start researching now so you are ready for next fall!
By Karen Sue
Add Fruit For Flavor
Make your own flavored applesauce by adding fruit, jam or jelly and spices like cinnamon.
By Janice C.
Buy In Bulk
If you're going to buy your apple sauce, buy the big jars instead of the individual sizes. You can then parcel them out to individual size, and/or add flavorings to suit your taste.
By Jana
Feel free to post your ideas below.
Read More

Comments

If you want to maximize the amount of fruit you can get out of an apple, consider cutting it up before eating it. First, cut the apple from top to bottom, from the stem end to the blossom end.